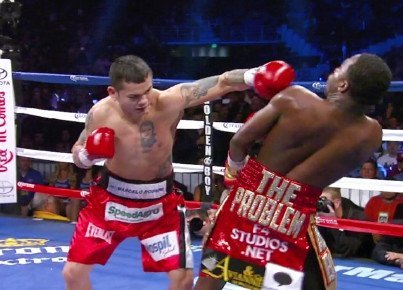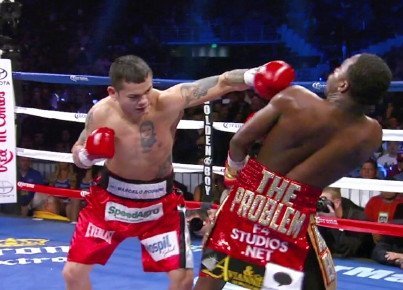 WBA welterweight champion Marcos Maidana says that he and his team hasn't been contacted about a potential unification bout against WBC welterweight champion Floyd Mayweather Jr. on May 3rd. While there have been speculation that Mayweather might choose to fight the popular Maidana rather than Amir Khan, it's not happened as of yet, according to Maidana. He's clear that he wants the fight with Mayweather, but he's not going to chase him and push for the fight like some other fighters have done recently.
It's thought that Mayweather is making a decision about whether to fight Khan or Maidana. Khan was considered to be the guy that was going to get the fight next early on, but Maidana put himself in the forefront with his victory over little Mayweather, Adrien Broner, and that could be the thing that is causing Mayweather and his team to lag on making the decision about his next fight.
This is Team Maidana's statement about the Mayweather rumors from Maidana's Facebook site:
OFFICIAL STATEMENT FROM TEAM MAIDANA: As some rumors have arisen in the last few hours about a potential unification fight between WBC Welterweight champion Floyd Mayweather Jr. and WBA Welterweight champion Marcos Maidana next May 3rd, Team Maidana wants to clarify that we have not been contacted about it as of yet, except for that creative art piece posted by Mayweather Jr. himself around the web which Chino Maidana (a.k.a. "the biscuit" in this case) already answered.
Chino Maidana is on a well deserved vacation on his native town of Margarita and will not be begging around for that fight. And unlike others Chino will not put down other fellow boxers who apparently are in the race to face the best of the world. We think the boxing people already made clear what kind of fight they want to watch May 3rd, 2014: a fight between two champions."
Even if Mayweather chooses Khan, it'll still be an interesting fight and will do well because of the UK pay-per-view sales, if not because of the U.S sales. It's probably not a fight that will interest a lot of American fans, but the British fans could make up the difference. It's definitely a safer fight for Mayweather than him facing Maidana, because Khan is easy to time and hurt with left hooks. If Breidis Prescott and Danny Garcia were able to time Khan and knock him out with left hooks, then Mayweather will do the same. The Maidana-Mayweather is probably the bigger fight in terms of PPV buys in the U.S. and that might be the way to go for Mayweather. Khan will still be there after the Maidana fight, so Mayweather can always face him in September, if Khan doesn't get beaten again by someone else. He's lost 2 out of his last 4 fights, and he's vulnerable against pretty much any welterweight contender, even the fringe contenders.