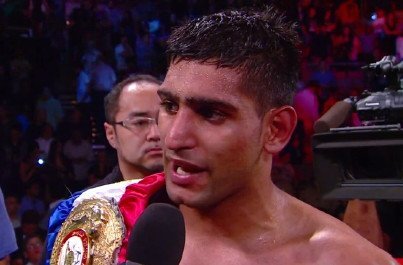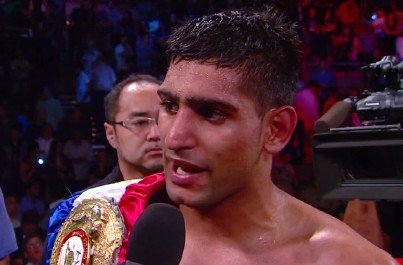 As boxing fans may have read by now, Amir Khan, the former WBA/IBF 140-pound champion, has put pen to paper to face superstar Floyd Mayweather Junior next May and is awaiting Floyd's signature on the contract. This match-up, though derided by many, has long been expected (at least for a number of months now) and not too many people would be shocked if the match-up went ahead.
But Khan, in speaking with The Mail, also said he would be more than willing to face former friend and spar-mate Manny Pacquiao if Mayweather instead opts to face the fighter seen as his other option for May in Marcos Maidana.
"I've signed my part of the contract," Khan said of a Mayweather clash. "They've not signed theirs. If he (Floyd) wants to face someone I've beaten (Maidana, who Khan out-pointed in a thriller back in December of 2010) then so be it."
And on a possible Pacquiao showdown if Floyd does pick a rumble (or, far more likely, another take-his opponent-to-school master class) with Maidana, Khan said:
"I'd fight Manny. Look, it's business. We are friends and respect each other, but I would definitely consider the fight, and I am sure he would too."
So, whether it's against the current pound-for-pound king or against the superstar who formerly held the position, Khan is determined to land himself a mega-fight next. Again, many critics say Khan – who has beaten just Carlos Molina and, last time out in a shaky affair, Julio Diaz, since being crushed by Danny Garcia and who has never boxed as a welterweight – is deserving of neither fight, but since when has that mattered in boxing?
Khan is in a good position – he has name value, an exciting style and is backed by powerful promoters: he looks sure to face either Floyd or Manny next. But which match-up is the most intriguing, in the sense that Khan would actually have a shot at winning?
Khan's chin, never made of anything approaching concrete, has looked decidedly fragile in recent months (the crushing loss to Garcia and the early knockdown and late-rounds stagger, or stumbles, against Mexican warrior Diaz) and a good argument could be made for both Mayweather (never all that quick on the draw when it comes to KO wins) and Pacquiao taking Khan out fast. Mayweather has already posted an image on Instagram of Khan falling at his feet and many fans believe this is just what would happen. While Pac-Man, still stunningly fast and possessing real venom in his fists, would have a great chance of ruining Khan inside a few minutes.
So, would either fight sell? In truth, any Mayweather fight will sell, and so too will almost any Pacquiao fight. Either fight would attract a draw, that's for sure. As to who Khan would have the best shot against? It's tough to make a case for a Khan win either way, but with his incredible hand speed and his herky-jerky combinations, maybe, just maybe, Khan would do what Virgil Hunter says he would do and give Mayweather some problems.
A Khan-Pacquiao fight would have a good back-story, with the Freddie Roach angle and the Wild Card sparring sessions the two engaged in, and if the fight took place in Dubai as Khan has suggested, maybe the "grudge-match" would prove enticing to the fans. As to whether or not Khan's chin would hold up to Pacquiao's blistering attacks, that's another story.
Khan is a good fighter who may have peaked as long as three years or more ago, yet he finds himself on the verge of landing a fight few great fighters could dream of getting.
Pre-fight predictions:
Mayweather KO inside 5 – with Floyd taking out an onrushing Khan with a superbly timed counter hook to the jaw.
Pacquiao KO inside 3 – with Pac-Man simply overwhelming Khan with vicious combos upstairs and down.