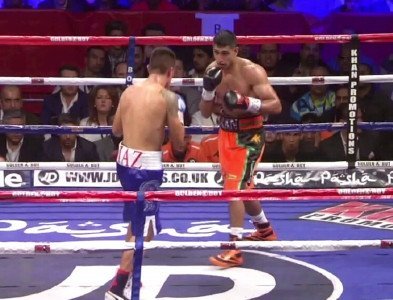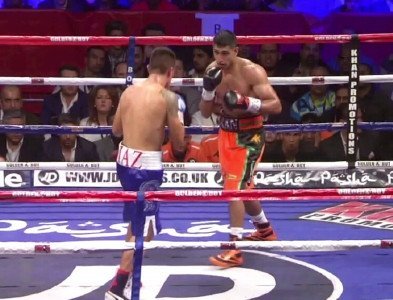 WBA middleweight champion Gennady Golovkin believes that Amir Khan (28-3, 19 KO's), who has lost 2 out of his last 4 fights, will give Floyd Mayweather Jr. (45-0, 26 KO's) a lot of problems with his talent, and he feels this is a good fight for business. Golovkin thinks Mayweather will struggle with Khan for some reason, and he's very interested in seeing this fight. And what's interesting is that Golovkin thinks the boxing public will want to see Mayweather fight Khan.
"It's a good fight for everybody," Golovkin said to Hustleboss "Amir Khan is a good boxer, he has good speed; not an easy fight for Floyd. It's good [for] business. Yes [it's a marketable fight]. You know Floyd is No.1 in the world, but Amir Khan has a lot of fans. It's a good fight for box, for sport, for business."
It's difficult to picture Khan being competitive with Floyd in this fight. Khan is type of fighter who is competitive until he gets hit hard, and then it's over with. In that respect, Khan might be competitive for a stretch of time until he gets nailed with a left hook or right hand from Floyd, but I don't see Khan being knocked out as sign of him being competitive.
Perhaps what's more important than the competitive nature of the fight is whether boxing fans will want to purchase a Khan-Mayweather fight in high numbers on pay-per-view. I know Khan has a lot of fans in the UK, but he's failed to establish himself as a star in the United States despite having fought many of his fights over there for the past four years. Maybe Khan has failed to become a start due to him lacking a big name like Mayweather to turn him into a star with his Midas touch or it could be that Khan keeps losing his fights. That obviously has a way of keeping a fighter from turning into a star.
Khan was knocked out by Breidis Prescott in one round in 2008, beaten by Lamont Peterson by a 12 round decision in 2011, and then knocked out in 4 rounds by Danny Garcia in 4 rounds in 2012. I don't know if you can become a star if you keep getting beaten and you never avenge the losses. Khan hasn't avenged any of his defeats, and that's problematic.
Khan also has a questionable decision over Julio Diaz in his last fight in April in which he was knocked down in the 4th and hurt several times. Additionally, fans that saw Khan's win over Marcos Maidana from 2010 wonder if Khan would have been able to survive the last three rounds without the referee constantly pulling Maidana away from Khan while he had him badly hurt and was trying to finish him. It was the strangest thing to see.
Golovkin might not be the right person to ask for an opinion about a Khan-Mayweather fight, because he has mostly good things to say about all fighters. That seems to be his nature. You can picture Golovkin calling Khan a 'good boy,' and praising his talent up and down. However, if you look at Khan objectively, he would seem to be a terrible opponent for Mayweather because of his weak chin and the likelihood that fans won't be interested in purchasing a Khan vs. Mayweather fight in high numbers on PPV.