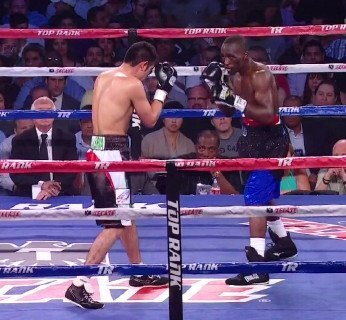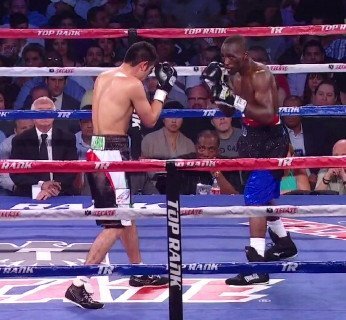 2013 will go down as one of the best years of boxing in recent history. Thanks to big fights, big shocks and big knockouts, fight fans got everything they could have wanted in 2013.
Floyd Mayweather took on young pretender Saul Alvarez in a genuine super fight, Carl Froch participated in two legendary fights, whilst new stars such as Mikey Garcia, Sergey Kovalev and Adonis Stevenson made themselves certified stars of modern day boxing. Finally, the likes of Guillermo Rigondeaux, Jhonny Gonzalez and Marcos Maidana each pulled off stunning upsets that switched up boxing's hierarchy.
2014 looks to continue in the same manner. Floyd Mayweather is set to fight twice again this year, whilst the retirements of Vitali Klitschko and David Haye mean new faces will compete for titles in the heavyweight division this year. With a crowd of faces joining and dropping out of the 2013 pound-for-pound rankings who will be the ones to make waves this year? Here are five fighters to watch in 2014.
1) Terence Crawford – 22-0 (16 KOs), 26 years old
The Philadelphia lightweight has an immediate chance to make 2014 his year when he fights Ricky Burns in March for the WBO title. Looking at Burns' recent difficulties since stepping to world level, even if the fight is in Glasgow, Crawford should be a heavy favourite.
Dubbed by Max Kellerman as the best lightweight in the world today, Crawford has a style that has had some comparing him to Pernell Whitaker. Typical of the lineage of great African-American fighters, Crawford combines exceptional hand speed, slick skills and defensive nous to complete a formidable package. A very physically big lightweight too, Crawford could dominate the division if he does not follow the route of Adrien Broner and step up in weight too early.
Having already defeated perennial contenders Breidis Prescott, Alejandro Sanabria and Andrey Klimov, Crawford is more than ready for all comers in 2014.
What to expect: Crawford to be a world champion and probably to have defended it by the end of 2014.
2) Erisandry Lara – 19-1-2 (12 KOs), 30 years old
At 30 years old and with just over 20 fights as a pro, the former amateur world champion is now in the prime of his career and should be looking for only the biggest fights.
Already in his pro career Lara has faced the likes of Carlos Molina, Austin Trout, Vanes Martirosyan and Alfredo Angulo. Although he drew two of those fights, one came about due to a accidental head-butt (against Martirosyan), whilst the other was at a time when he had just had 15 bouts and was facing a last minute change of opponent (against Molina). Lara's only "loss" was also an incredible robbery in one of the worst decisions in recent history, when Paul Williams was awarded the fight after Lara had beaten him around for 12 rounds.
Schooled with the likes of Guillermo Rigondeaux and Yuriokis Gamboa (fellow Cuban amateur stars that defected to America), Lara is an intelligent fighter that likes to exploit his opponents' weaknesses. A typical tricky southpaw, Lara had a huge 2013 by defeating Angulo and Trout in comprehensive fashion. With another win or two Lara will be looking at some potential super-fights in his star-studded division.
What to expect: Lara to beat whoever he fights in 2014 so by 2015 he is a standout opponent for either Floyd Mayweather or Saul Alvarez.
3) George Groves – 19-1 (15 KOs), 25 years old
There has perhaps never been a fighter that has benefitted so much from a fight in which he was stopped. However, the very early stoppage against Carl Froch could have been a blessing in disguise.
Right now, due to how the fight went for 24 minutes of the approximately 27 minute fight, Groves could arguably be called the second best super-middleweight in the world right now, whereas if he was allowed to continue and Froch knocked him out (as looked likely), this would not be the case.
Simply, in 2014 Groves deserves a world title fight and the fan power behind him after his classic yet controversial fight against Froch should help him get one. Only Andre Ward would be a heavy favourite against "The Saint" right now, which is probably why only Ward has shown an interest in fighting him.
What Groves has as a fighter is a right-hand that can win him any fight with any kind of punch, such is the power in it. Groves is also awkward, with a jittery style, full of feints and head movement, which keeps opponents guessing where the next bomb is coming from, making him one of the most dangerous fighters out-there without a title.
What to expect: Groves to get a fight against the likes of Sakio Bika or Robert Stiglitz by the end of 2014 for a world title before getting a huge fight vs Froch or Ward.
4) Vasyl Lomachenko – 1-0 (1 KO), 25 years old
Having won the Olympic Gold as a heavyweight, Pete Rademacher fought Floyd Patterson on his debut for the world title. Rademacher was taken apart in that fight, losing via 6th round knockout.
After this fight, where the huge leap between being a world class amateur to being a world class pro was highlighted, no amateur ever fought for a world title on their debut again. However, Lomachenko looks set to do the next best thing by fighting for a world title in just his second pro fight. Having seen how few amateur standouts have gone on to dominate the pro game in the last few years, this is a huge indication of how highly regarded Lomachenko is, and this is not without reason.
An amazingly talented boxer, Lomachenko has power, near perfect technique, an almost psychic ability to read opponents and is simply very tough. These abilities are why Lomachenko is arguably the best amateur boxer of all time, with a record of 396-1 as an amateur, and a medal haul that includes two Olympic gold medals and two World Amateur Championship gold medals too.
A fight against the ultra-tough and seasoned world champion featherweight Orlando Salido looks set to be arranged for sometime in 2014. In just his second pro fight, there is no guarantee Lomachenko can win a world title just yet. However, finding out just how good a pro Lomachenko can be could be the most interesting thing in boxing today.
What to expect: If Lomachenko can win a world title in 2014, we may just be seeing boxing's next genuine superstar.
5) Bermane Stiverne – 23-1 (20 KOs), 35 years old
Bermane Stiverne's name would not be on this list if he were set to face Vitali Klitschko for the WBC title next year. However, due to Vitali's retirement and subsequent relinquishment of the WBC title, Stiverne could have an outstanding 2014.
Firstly, most likely as his opponent for the vacant title will be Chris Arreola, the Mexican-American Stiverne comfortably beat in 2013. Stiverne would most likely be a heavy favourite, having already beat Arreola via UD and even knocking him down in their bout this year. Secondly, the best heavyweight in the world – Wladimir Klitschko – is busy defending his other three world titles so unless either actively pursues the fight, it is unlikely Stiverne will fight Wladimir in 2014. Finally, none of those in and around contention for future fights for the WBC title are a major threat to Stiverne, with all at best being 50/50 fights.
In a division full of big, lumbering, slow heavyweights, Stiverne is slicker and quicker than most, whilst he is also not afraid to mix it up, knowing he carries real knockout power in his hands. Stiverne's ability, along with this series of events means that it is likely that Stiverne will be able to end 2014 as a world champion.
What to expect: Stiverne to fight and defeat Arreola for a world title in 2014, if nothing else.
Others to look out for: Mike Perez (heavyweight), Beibut Shumenov (light-heavyweight), Matt Korobov (middleweight), Kel Brook (welterweight), Javier Fortuna (featherweight)
@JazzTheJourno