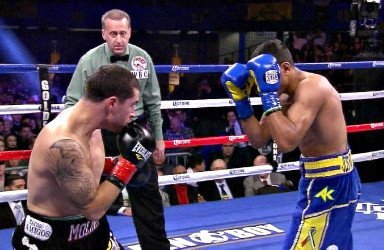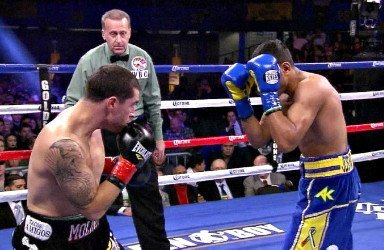 By Michael Collins: Former IBF/WBA light welterweight champion Amir Khan (27-3, 19 KO's) stopped a badly overmatched, undersized, and underpowered 5'6′ Carlos Molina (17-1, 7 KO's) in the 10th round on Saturday night to win the vacant WBC Silver light welterweight title at the Sports Arena in Los Angeles, California. The fight was halted after the 10th by Molina's corner.
Khan really dominated this fight with his size and speed, as he rarely gave the much shorter and weaker Molina opportunities to land his shots.
Khan's promoter Richard Schaefer of Golden Boy Promotions seemed to stumble over his words when interviewed after the fight and asked if he'd be interested in matching Khan with WBA/WBC light welterweight champion Danny Garcia. Schaefer said that Garcia has a fight in February and that he plans on getting Khan back in the ring in April. Schaefer said "He can fight anyone when he fights like that." It seemed like Schaefer wasn't too eager to put Khan back in with Garcia, at least that's how I read it.
****
In the undercard, heavyweight prospect Deontay Wilder (26-0, 26 KO's) notched his 26th consecutive knockout with a nice 3rd round knockout victory over previously unbeaten Kelvin Price (13-0, 6 KO's). Wilder, 27, hit Price with a big right hand in the 3rd that dropped him hard on the canvas. The fight was halted almost immediately when it was clear that Price wasn't about to get up from the hard knockdown.
The was pretty dull for the most part, as Wilder seemed tentative to pull the trigger on any of his big shots in the first couple of rounds. He did land a few decent punches but he wasn't throwing with major power at that point in the fight like he normally does. For his part, Price was fighting scared by moving a lot, and making wild rushes at Wilder that would end with Price clinching him. It was no doubt an ugly fight to watch because neither guy would throw anything with any kind conviction.
The crowd booed the lack of action in the 2nd round. The booing seemed to get to Wilder a lot more than it did Price, because in the 3rd round, Wilder came alive, landing several nice right hands. One of the shots took Price's legs away right before Wilder throw a big right hand from a long distance away that knocked Price down. Wilder got all of his body into that punch as he threw it from really far but with tremendous power. The shot hit Price on the side of the head and immediately bowled him over.
***
Junior middleweight Alfredo Angulo (22-2, 19 KO's) badly struggled to a 10 round unanimous decision against Jorge Silva (18-3-2, 14 KO's). The final judges scores were 97-93, 97-93, 97-93. Silva, a pumped up welterweight, was able to highlight the same faults in Angulo's game that other fighters like James Kirkland and Kermit Cintron had done in beating Angulo. The lack of hand speed of Angulo was really brought out by the faster Silver, as was Angulo's inability to cut off the ring. He looked really slow his feet, and his hands were incredibly slow compared to Silva. Angulo took a lot of shots from Silva in rounds 1, 6 and 7. Angulo was able to dominate a tired Silva from the 8th round on, and badly punish him. However, Angulo still looked far from impressive in this fight.
It's hard to see where Angulo's new trainer Virgil Hunter improved him. He looked like the same limited fighter that lost to Kirland last year in December, and it may be that Angulo is beyond changing. He's too slow to be anymore than an aggressive plodder type of fighter that will struggle against quicker guys than him.
***
Other boxing action on the card:
Leo Santa Cruz UD 12 Alberto Guevara
Errol Spence TKO 3 Richard Andrews
Joseph Diaz UD 4 Vicente Alfaro
Jerren Cochran UD 4 Chris Lopez
Marcus Browne KO 1 Ritchie Cherry
Frankie Gomez TKO 1 Pavel Miranda
Hugo Centeno Jr RTD 6 Allen Conyers
Shawn Porter 10 draw Julio Diaz