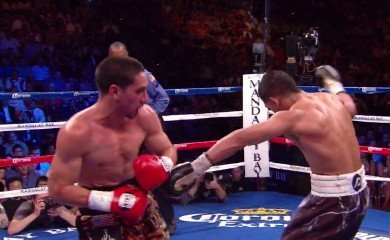 By Michael Collins: Amir Khan (27-3, 19 KO's) still is under the impression that he lost to WBC light welterweight champion Danny Garcia last July by getting hurt by a lucky punch thrown by the 24-year-old Garcia. Khan thinks he would have continued to dominate him like he'd done in the first two rounds had he not got hit by that big left hook shot that connected to his neck in the 3rd round.
Khan is now saying that he was having more problems with his last opponent 5'6" lightweight Carlos Molina than he was with Garcia.
Khan said to sportinglife.com "I was beating (Garcia) convincingly and then got caught with a shot. I think I was beating him more easily for the first two or three rounds than I was Molina…I got caught with a shot that I shouldn't have been caught by."
Khan was dominating Garcia pretty easily in the 1st round, but in the 2nd round, Khan began to get hit with some hard left hooks from Garcia, and you could tell that Khan was going to have problems in this fight unless he got to Garcia to take him out. Garcia was hitting Khan a lot more regularly than Khan's other opponents Marcos Maidana and Lamont Peterson early.