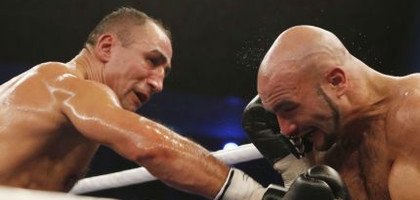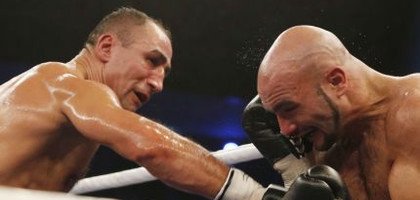 By Marcus Richardson, photo by Wende — In his first defense of his WBO super middleweight title Arthur Abraham (36-3, 28 KO's) put in an impressive performance in stopping #14 WBO Mehdi Bouadla (26-5, 11 KOs) in the 8th round on Saturday night at the Arena Nürnberger Versicherung, Nuremberg (Nürnberg), Bayern, Germany. Bouadla was cut on the right eyelid in the 7th, and it was giving him major problems in the 8th round at the time the fight was halted. Bouadla was just taking one-way punishment in that round when the referee wisely stepped in and halted the fight.
In rounds one through four, Abraham attacked Bouadla with punches in bunches and then would tire out and then let Bouadla have an opportunity to land his own shots. Surprisingly, Bouadla turned out to be a very respectable puncher and it was an eye opener to see him unloading on Abraham. The last time I had seen Bouadla fight against Mikkel Kessler last year, Bouadla wasn't able to lay a glove on Kessler and was quickly taken out in a 6th round stoppage. But against Abraham, Bouadla landed a lot of heavy shots. Part of the reason for that is the 5'9″ Abraham's lack of size, but the other reason was that Abraham kept allowing Bouadla to have chances to land his shots by backing up to the ropes.
Abraham showed excellent power in this fight, and you got to give Bouadla a ton of credit for being able to take Abraham's shots without hitting the deck for the 10 count. Not too many fighters would have been able to take Abraham's power.
Bouadla, 5'8″, fought as well as he could for a fighter of his talent limits. He was picked out from near the bottom of the World Boxing Organization's top 15, so it wasn't as if he really had a chance in this fight. Bouadla was too small to give Abraham a real run for his money unfortunately for boxing fans and for him.
Overall, I thought Abraham looked pretty good in this. I could see him beating a better fighter than Bouadla like George Groves, who Abraham may be fighting at some point next year.
***
Other boxing results on the card:
Jack Culcay TKO 5 Jean Michel Hamilcaro
Mateusz Masternak UD 12 Juho Haapoja
Michael Sprott UD 10 Edmund Gerber
Tyron Zeuge KO 1 Vasile Dragomir
Enrico Koelling UD 6 Attila Baran