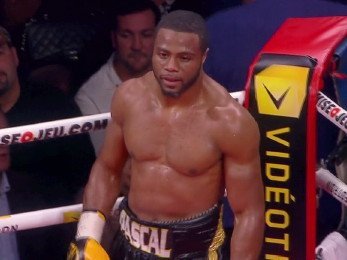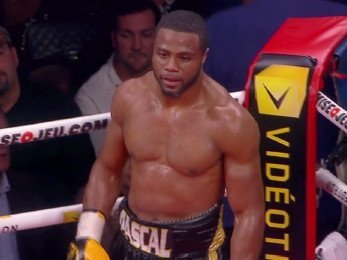 By Rob Smith: Fighting with only one hand from the 4th round after injuring his left shoulder in the 4th, Jean Pascal (27-2-1, 16 KO's) was able to defeat Aleksy Kuziemski (23-5, 7 KO's) by a pretty one-sided 10 round unanimous decision tonight at the at the Bell Centre, in Montreal, Canada. The victory will now set Pascal up with a rematch against WBC light heavyweight champion Chad Dawson next March if Pascal's injured left shoulder heals. The judges scored the fight 100-88, 98-90 and 98-90. Pascal knocked Kuziemski down in the 6th and the 10th round rounds from hard right hand.
Pascal hurt his left hand when he attempted to throw a left hook in the 4th and his arm got caught on one of the ring straps that support the ropes. Luckily for Pascal, Kuziemski was far away from him when he got his arm caught because arm was caught on the strap and he had to untangle it. From that point on, Pascal was forced to fight with only his right hand. Had he been fighting someone with good power and boxing ability, Pascal would have lost the fight because he telegraphed everything he threw and almost defenseless because he couldn't block shots with his left arm. When he would attempt to raise his arm you could see that it was causing him pain. Fortunately for him, Kuziemski didn't have the offensive weapons to take full advantage of Pascal's injury.
The reports are that Pascal separated his left shoulder. He previously separated his right shoulder during a fight with Adrian Diaconu in 2009 and won that fight with just his left arm.
Kuziemski did land a lot of shots before and after the injury, but that was also a result of Pascal's naturally poor defensive skills. He got hit about the same amount before the injury than he did after.
—
In undercard action, middleweight David Lemieux (28-2, 27 KO's) knocked out Albert Ayrapetyan (20-4, 9 KO's) in the 2nd round after knocking him down three times in the fight. Lemieux knocked Ayrapetyan twice in the 1st round, and then put him down for a final time in the 2nd round with a right hand. This was supposed to be a step up for Lemieux, but you can hardly call it a step up when Ayrapetyan had only fought three times in the past seven years when he stepped inside the ring with Lemieux tonight.
As always, Lemieux showed good power but poor defensive skills. He had the perfect opponent in there with him, because Ayrapetyan frequently went to the ropes, which is where you don't want to go when you fight Lemieux. His opponents often do well against him when they stay in the center of the ring, but they have problems when they back up against the ropes and let Lemieux tee off on them like he did with Ayrapetyan.
Lemieux will be fighting Jose Miguel Torres next February and he's a slight step up from Ayrapetyan, but not much of one.
I can't see Lemieux beating any of the good middleweights. He's still so limited as a fighter and he'll likely get knocked out each time he steps it up. However, he remains a popular fighter in Canada, so he'll do alright as long as they match him against a certain type of fighter.
—
Undefeated light heavyweight Elieder Alvarez (11-0, 7 KO's) stopped former EBU super middleweight champion Danny McIntosh (13-4, 7 KO's) by an 8th round knockout. Alvarez knocked McIntosh out with a single right hand to the head that sent him down on his back on the canvas. McIntosh was also knocked down another time in that round from a right hand from Alvarez.
Alvarez pretty much had his way with McIntosh because the British fighter fought in a time manner and just didn't have the offense or the inclination to really go after Alvarez the way he needed to in order to win the fight. Alvarez was able to land at will for the entire fight until stopping McIntosh.
I wasn't too impressed with Alvarez. He throws a lot of wide shots and it's easy to block his shots because of that. He slaps way too much with his punches, and his power is overrated. He's not in the class of guys like Tavoris Cloud, Nathan Cleverly or Chad Dawson, and would likely be beaten by guys like Ismayl Sillakh as well. I wouldn't advise Alvarez to move down to super middleweight because he would be eaten alive by the better fighters at that weight.
Other boxing results on the card:
Oscar Rivas KO 1 Laszlo Peczeli
Marc Pagcaliwangan TKO 1 Richard Voros
Andrew Gardiner TKO 3 Attila Tibor Nagy
Kevin Bizier UD 8 Doel Carrasquillo
Logan McGuinness UD 10 Carlos Manuel Reyes