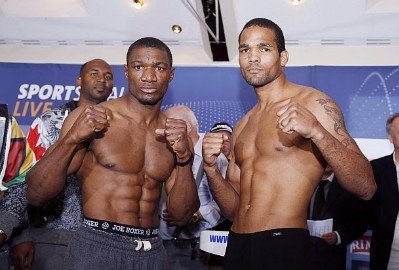 By Dwight Chittenden: IBF cruiserweight champion Yoan Pablo Hernandez (26-1, 13 KO's) will be defending his title tonight against the dangerous #3 IBF Troy Ross (25-2, 16 KO's) at the Stechert Arena, in Bamberg, Bayem, Germany. Although the 6'4″ Hernandez will be sporting a five inch height advantage over the 5'11" Ross, this still could turn out to be a very tough fight for Hernandez due to Ross's excellent power.
If there's one area where Hernandez is badly flawed it's in the chin department. He doesn't seem to be able to take a good shot without being wobbled badly or knocked down. Luckily for him the cruiserweight division doesn't have a lot of big punchers because he'd likely not be where he is today if that was the case. Ross obviously is well aware of Hernandez's flaws in the chin department and he'll be looking to take him out with each shot he throws.
Hernandez, 27, has a 12 fight winning streak dating back to 2008. He was stopped in the 3rd round in March of 2008 in a shocking loss to Wayne Braithwaite in a fight where Hernandez chose to slug the big hitting Braithwaite instead of boxing him. After that fight Hernandez's trainer because to slowly alter his style to make him fight in a more conservative manners so that he could use his reach and avoid getting hit as much. Hernandez didn't look good at first, getting shaken up badly by Michael Simms in a close 8 round majority decision win in October of 2008, but Hernandez has gotten better with each fight.
His stamina was also a major problem for him as well, as he would fade badly by the 5th round of his fights. However, his trainer has fixed that problem as well by having him fight in a slower manner to conserve energy. But Hernandez is still vulnerable if pushed into a fast pace.
Ross, 37, was stopped by Steve Cunningham in the 5th round in June of 2010 in a failed effort to capture the vacant IBF cruiserweight title. Ross had Cunningham down in the 4th, but was unable to finish him off. In the 5th, the fight was halted because of a cut.
There's no question about it that Ross really needs to pressure Hernandez if he wants a chance to win this fight. He can't let the big 6'4″ Hernandez fight on the outside and dominate with his jab and long reach. He's got to get close to him and test his chin and push a fast pace.
***
Also on the card:
Damien Bertu vs. Marcos Nader
Michael Sprott vs. Edmund Gerber
David Quinonero vs. Mateusz Masternak
Roberto Santos vs. Dominik Britsch