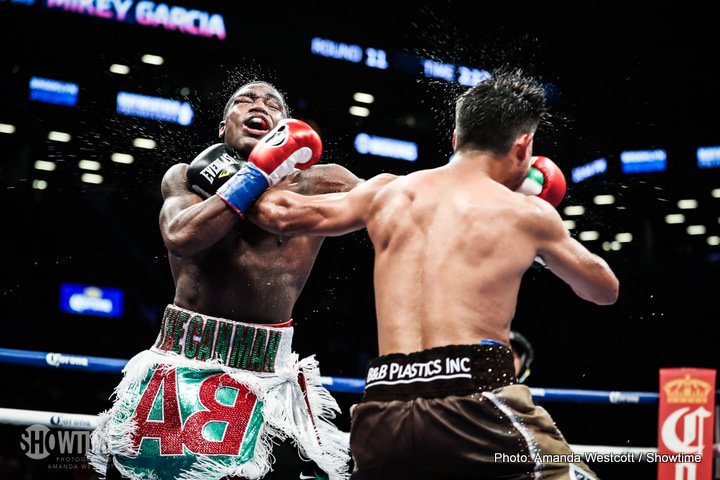 Mikey Garcia once again showed his class and talent in dominating Adrien Broner. The unbeaten star who has won titles at three different weights looked great fighting as a 140-pounder. Broner, who once again promised so much, failed to deliver. But this was largely down to the simple fact that Garcia, now 37-0(30) didn't allow Broner to do much of anything apart from talk (both before, during and even after the fight).
After losing for the third time in his career, Broner vowed to come back and win another belt, but his defiance doesn't look like it will be matched with actions. Broner, a good fighter once seemingly capable of achieving greatness or something close to it, looks to be done at elite level. As for Garcia, he has an absolute ton of options; as he made clear when speaking after his unanimous decision victory.
"Anybody that wants to come join us on Showtime, give us a call," Garcia said after beating up Broner. "We are ready for anybody. Maybe I'll go down to 135, stay at 140, or go up to 147."
There are some potentially sizzling match-ups that could be made at either weight. At lightweight, the idea of Garcia matching his considerable talents against the considerable talents of Vasyl Lomachenko or Jorge Linares makes fans shiver with excitement, while Garcia against the likes of the Terence Crawford-Julius Indongo winner, and/or top welterweights such as Keith Thurman and Errol Spence Junior would also be sensational.
Garcia looked just as fast at 140 as he did down at 135, and even if some fans may feel a jump to welterweight might be a step too far, 29 year old Garcia could very well have the greatness the special ones have. Can Garcia become a five-weight king! Don't bet against it.
Whether he fights next at 135, 140 or 147, fight fans everywhere will be eager to tune in to see Garcia's next masterpiece. As for Broner, there could still be some good fights out there for him, just not at elite level. Who would still like to see Broner-Amir Khan, for example?