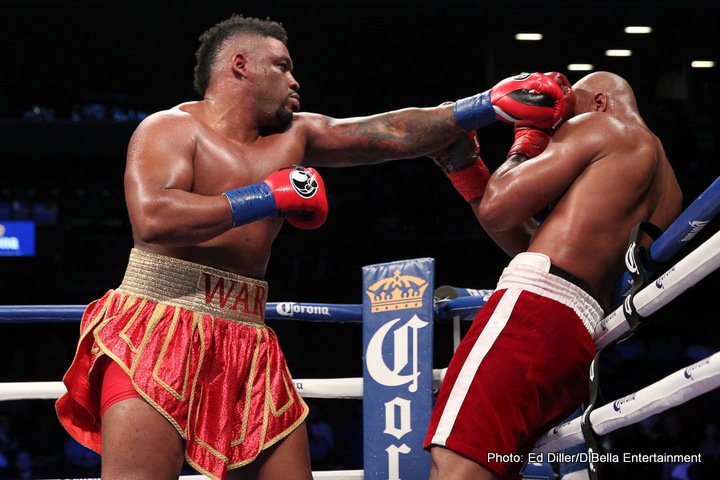 "Just think, George Foreman would be a small heavyweight today," Showtime's Steve Farhood.
Jarrell "Big Baby" Miller, all 298 pounds of him, scored a notable, career-best win last night in his native New York. The unbeaten big man – very big, in every sense of the word: big in size and weight, big in personality, big in punching power – stopped Gerald Washington after eight largely one-sided rounds.
Now 19-0-1(17) Miller, tipping-in at a career-high poundage, and fighting for the first time in 11 months, raised eyebrows with his weight. Still, as heavy as he was last night, Miller appeared to have absolutely no stamina issues, his punch output quite remarkable for such a big, big man – especially remarkable considering the ring-rust Miller was also carrying; rust the 29 year old later admitted affected his performance.
Miller is by far the proven article, yet, and he is a long way from being the best heavyweight contender of the scene. But what Miller is, is the best "Big" man on the boxing scene today. Can you name another giant who can throw as many punches as Miller, who carries 298 so well, without looking fat, and who has such fast hands? It's not easy. Tyson Fury, before he encountered his many out of the ring problems and got really fat, springs to mind, but active-wise, Miller is on his own.
The New Yorker who has been compared to the great Riddick Bowe by some is indicative of the way the heavyweight division's gladiators have grown, really grown, over the years – hence Farhood's on-air comment about "Big" George. Miller may weigh less in his next fight (and it it to be hoped the colourful and exciting contender remains active now that he has his promotional issues sorted out) but he doesn't figure to ever fight at less than 270 or so.
Miller dominated a good heavyweight last night, constantly backing up Washington, himself no small heavyweight, and punishing him. Washington showed heart to stay in there as long as he did. Again, Miller has a ways to go before he can be looked at as definite world championship material, but he sure is on his way.
Miller is calling just about everybody out: Deontay Wilder, Anthony Joshua, you name it. And who knows, "Big Baby" might be just one win away from getting what he wants. If Miller can win the world title, he will be second only to Russian colossus Nikolay Valuev when it comes to the heaviest-ever heavyweight king.
Can Miller rule in the land of the giants?