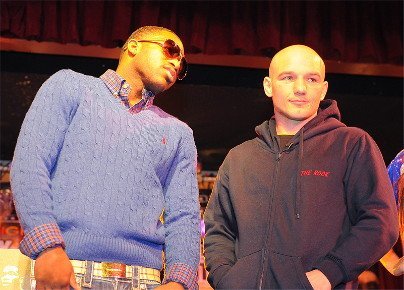 (Photo credit: Hogan photos) By Michael Collins: WBA super middleweight champion Andre Ward doesn't see WBC lightweight champion Adrien Broner (25-0, 21 KO's) having any problems in his first defense of his WBC title tonight against former WBA light welterweight champion Gavin Rees (37-1-1, 18 KO's) on HBO at the Boardwalk Hall in Atlantic City, New Jersey. Ward sees this fight ending quickly with Broner stopping the 32-year-old Rees.
Ward said on his twitter "Don't blink because that fight shouldn't last long. Easy Work!! Easy!! Like Too Easy!! Not about underestimating…but I can't help what I see on film."
You kind of have to agree with Ward, don't you? Rees has got some skills, there's no doubt about it, and he's got good power as well. However, Rees is only 5'4" and he'll be giving away three inches in height and another three inches in reach to the taller 5'7" Broner.
Rees won't match up in the speed, power and defensive departments either. The only where you can give Rees an advantage is with his jab. He has very good jab, and it's like a power punch when he's using. The problem here is Rees will be giving away so much in the reach department that he won't be able to stand on the outside and snap jabs at Broner without getting tagged by Broner's own crisp jab.
If Rees does start jabbing Broner, we'll likely see Broner make an adjustment by coming forward to get in close with Rees. Broner is a good inside fighter, and it'll be tough for Rees to be able to trade with him for long before he gets taken out.
Rees's trainer Gary Lockett wants him to use movement against Broner, but that's not really Rees' game, is it? If you've watched any of Rees' previous fights you'll notice that he only moves in straight lines – either backwards of forwards, never laterally. It doesn't matter if Rees does choose to move, Broner will likely cut off the ring and chop him down within six rounds or less.