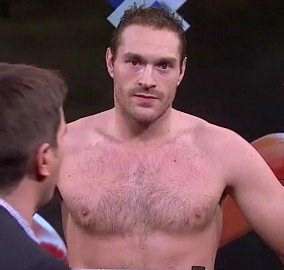 Remember when, after his awesome KO win over Michael Spinks, an upset Mike Tyson told the media at the post-fight press conference that he may well have fought his last fight and was retiring due to his general disgust at the way the media types had treated him? Of course Tyson never meant it, even if he was angry at the time.
Well, another fellow named Tyson who has not been altogether happy lately, namely Tyson Fury, has also announced his "retirement" from boxing. The word retirement has the speech marks surrounding it because no-one really believes or takes seriously the announcement Fury has made via Twitter, yet who knows for absolutely sure?
Fury, no doubt disgusted at his big money fight with rival British heavyweight David Haye having been cancelled twice, wrote:
"Hi every1, I have officially retired from boxing. There's too many bent people in the sport. They will have to f**k some1 else. Good bye boxin."
Again, most, no, almost all, people who read this took it as nothing but hot air (of the written variety) being released by Fury, and who can blame him for being annoyed at how the twice aborted Haye fight has basically wasted months and months of his career with nothing to show for it? But what if Fury HAS decided to quit? We've seen the last of Haye (or maybe we have anyway, what with his shoulder problems and the resulting five-hour operation) and maybe we've also seen the last of Mr. Fury.
It's hugely doubtful that Fury has fought his last, of course, as Fury loves to fight and will surely put up with the "bent" people that orbit around the sport so as to get the big fights he's been closing in on and the big pay days that will go with them.
We can most likely expect a quick turnaround from big Tyson in the coming days, when he's cooled off some!
Hi every1 I have officially retired from boxing. There's to many bent people in the sport. They will have to fuck some1 else. Good by boxin

— Tyson avoided fury (@Tyson_Fury) November 20, 2013