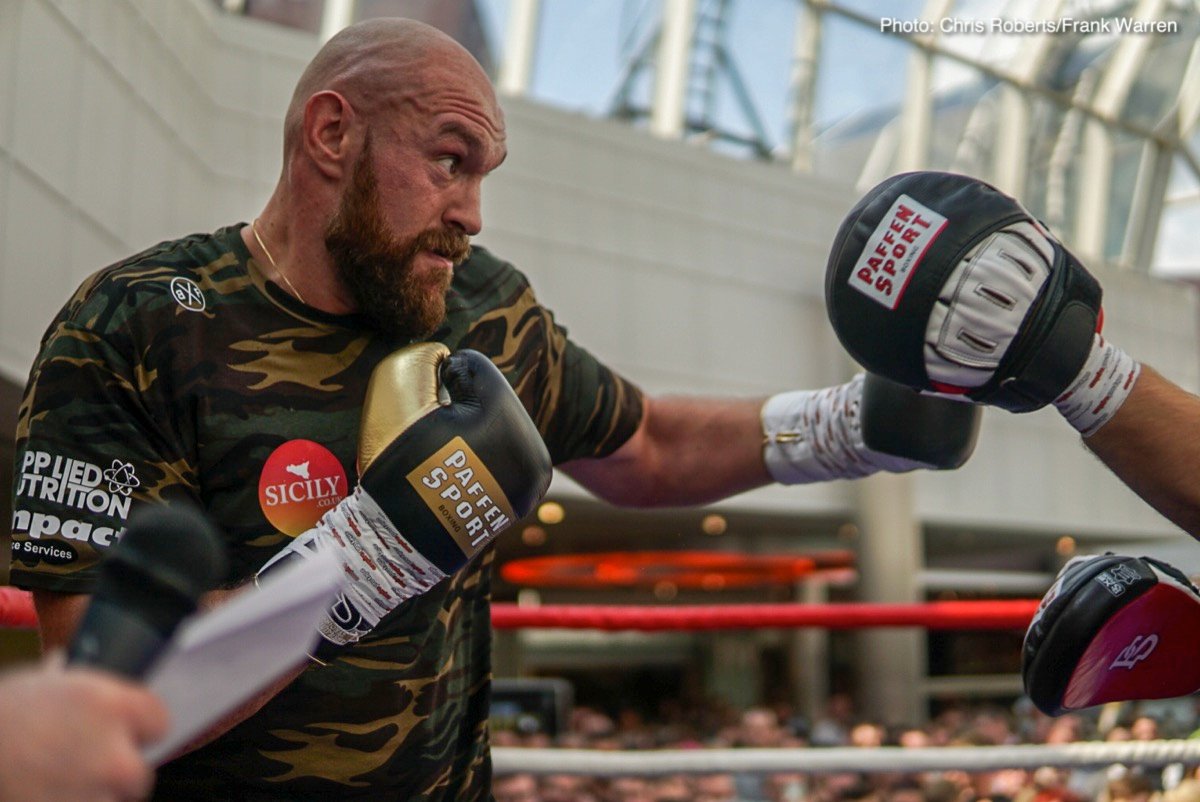 To absolutely zero surprise, it did not take long at all for Tyson Fury to come out with his opinion on last night's Anthony Joshua-Alexander Povetkin fight – and once again Fury is highly critical of Joshua's performance in a big fight. Joshua, though hit plenty along the way, eventually delivered an emphatic and brutally impressive stoppage win over Povetkin, sending the vast Wembley crown into a frenzy.
But Fury was not, and is not impressed. Taking to social media, the unbeaten giant who is proud of his status as lineal heavyweight champion ripped Joshua's performance apart:
"[I think] it's safe to say now that they will never fight the Gypsy King. Never. They mentioned if it's not Wilder, it's Whyte. There's no mention of Tyson Fury, the lineal heavyweight champion of the world," Fury said. "It's all right fighting men 39 years old, half your size. Tonight is pure evidence I'm fighting the best heavyweight out there in Deontay Wilder. Joshua is not even close. He's slow, methodical, ponderous at times. Powerful? Yes. But they all are. Very, very clear to me, avoid me at all costs. If I was Joshua, I would avoid me, I'd jab your head off. You're a bum. Can't box, [I'd] jab your nut in. Easy night's work."
https://youtu.be/6_gZV815B5w
For Joshua's part, he says he will fight Fury, "when he's ready." AJ released a short response to Fury on Instagram, saying: "I'll fight Fury when he's ready, but as I've said he's not. So good luck to him in his fight with Wilder. If he changes his mind in the future he knows where we are."
Fans everywhere are now desperate to see Joshua fight the winner of the December 1st Wilder-Fury fight, but will it happen? Eddie Hearn has made it clear he will not wait around, that he wants to get Joshua's next fight – at Wembley on April 13 – done and dusted ASAP. It seems extremely unlikely Hearn will wait until after December 1st to get Joshua's next fight done.
Look for Joshua to fight Whyte in a rematch next April, before maybe taking on the Wilder-Fury winner later on next year, maybe around September time. For the remaining year or so, fans will have to continue to listen as Fury, Wilder and Joshua all claim they are the best heavyweight in the world. It will be some time before either man gets a chance to prove it.