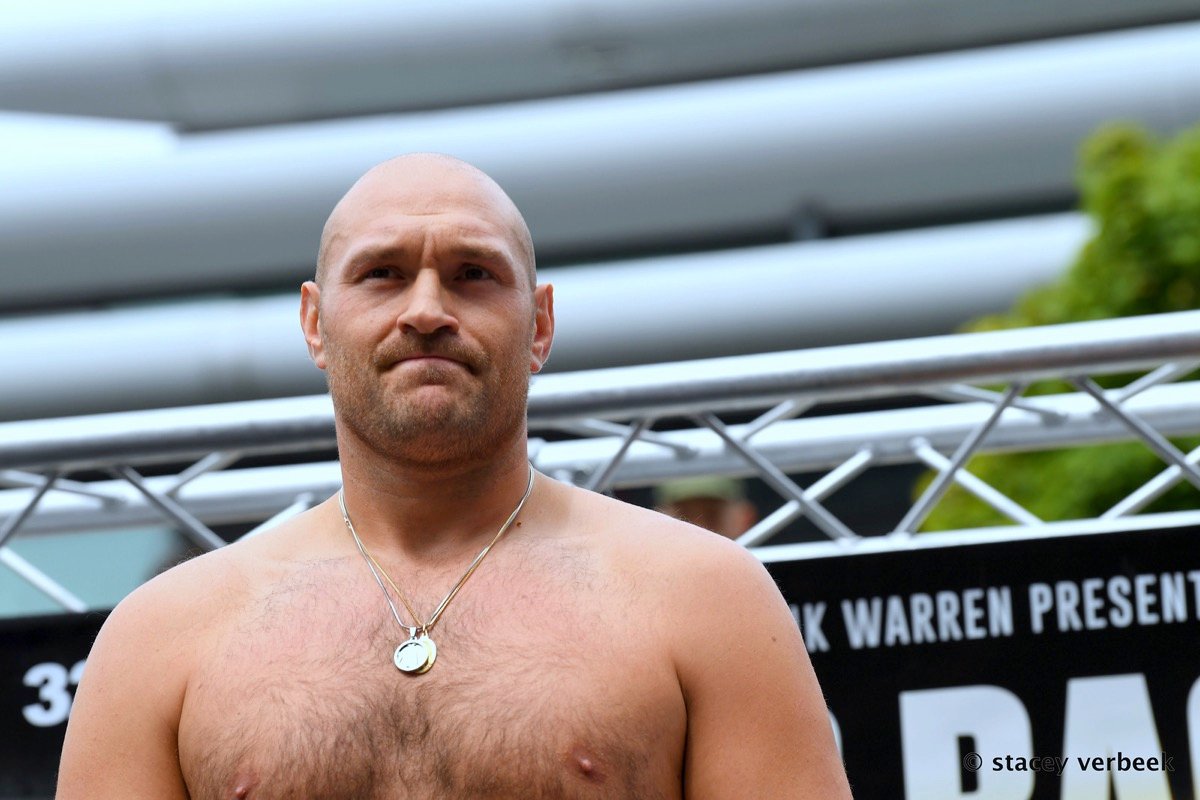 Aside from his huge upset win over Wladimir Klitschko, the victory that saw him crowned as world heavyweight king, it could be argued that the best opponent Tyson Fury has defeated is Dereck Chisora. Twice Fury defeated the teak-tough Londoner who revived his career in a hugely impressive and eye-catching manner on Saturday in flattening another tough man in Carlos Takam.
Fury is in fact one of only two men to have ever stopped "Del Boy" – David Haye being the other. Fury has plenty of respect for Chisora, as does Haye. And yesterday, Fury – set to have the second fight of his own comeback on August 18, against Francesco Pianeta – paid major props to his former rival. Fury said how he feels Chisora is most deserving of a second shot at a world title (Chisora's sole world title chance ended in a points defeat to Vitali Klitschko back in 2012).
Going further, Fury said "Chisora should be the number-one ranked [heavyweight] challenger in the world because he beat Dillian Whyte and he beat Carlos Takam." In reality, though many people agree with Fury and feel Chisora deserved the decision that went against him back in December of 2016, Whyte defeated the 34 year old via close, gruelling 12-round split decision.
But surely everyone will agree with Fury's claim that Chisora, 29-8(21) deserves another shot at world honours.
"You can never write someone like Chisora off, if you stand there and trade with him, he'll beat you up like he did to Dillian Whyte, like he did to Carlos Takam," Fury said via social media. "Really Chisora should be the number-one ranked challenger in the world because he beat Dillian Whyte and he beat Carlos Takam. I hope he gets a world title fight, either Joshua, Wilder or Manuel Charr, I'd like to see Dereck Chisora with a world title. I would be the first to back him in a world title fight. I'll back the campaign, let's get a campaign going where we get Dereck Chisora a world heavyweight championship around his waist. The guy deserves it, he's a warrior, he'll fight anybody, he's been on the road, he's fought the best in the world, he's still going – even when people write him off."
It's true Chisora, a born fighting man who is back in contention once more, has had some amazing career, and it would be one helluva story if he could finish it as a world champion. Chisora has options right now, including a return with Whyte, or maybe a shot at one of the champions. And as Fury says, he deserves it.
Of all his past opponents, Fury really does seem to have full respect for Chisora and nobody else. Fighters earn respect for one another when they give their all in the ring.