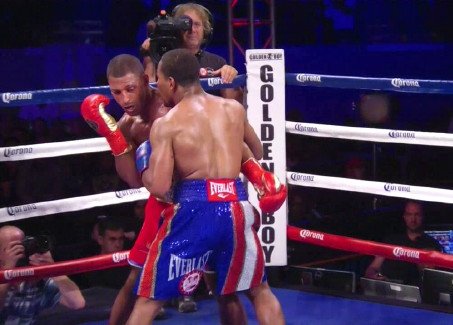 WBA welterweight champion Keith Thurman says that Britain's Kell Brook (33-0, 22 KOs) got outworked last night by IBF welterweight champion Shawn Porter (24-1-1, 15 KOs) through the entire 12 round bout at the StubHub Center in Carson, California.
Thurman feels that the judges focused more on Brook landing the cleaner landing shots rather than the high volume punching from Porter. The judges gave it to the guy with the better power, in other words.
"Porter did outwork Brook, and there were certain rounds where he especially outworked Brook," Thurman said to esnewsreporting.com. "But there was a lot of non-effective punching, and I think that's the main reason he lost the fight. It's very similar to what happened to Marcos Maidana."
Some of the scores in the Brook-Porter fight were way out of bounds to what happened in the ring. You've got one judge scoring it 117-111 and another one scoring it 116-112. There's no way the fight was that far apart unless those two judges chose not to look at the clean body shots that Porter landed in the fight.
If the only thing that moved those judges was the head shots in the fight, then they needed to tell the fighters ahead of time that they were only going to focus on the head shots so that both guys could have adjusted their games accordingly.
Thurman would like to get a shot at Brook to try and pick up his belt. Brook mentioned Thurman's name after the fight as someone that he'd like to fight, but it's unclear just how serious Brook was when he said that. He could have been just namedropping in order to get some boxing fans to believe that he's willing to fight Thurman.
We'll know what the deal is if Brook is matched against a bottom feeder in his next fight instead of a top contender like Thurman. It'll tell you that Brook's promoter Eddie Hearn is playing it safe with him.