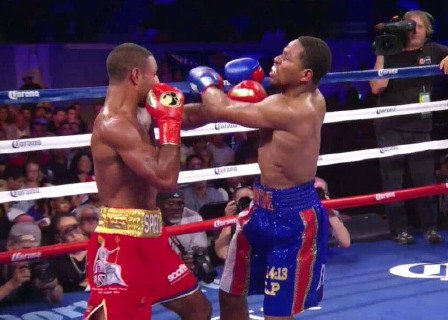 Share the post "Brook defeats Porter; Dirrell beats Bika; Wilder stops Gavern"
Kell Brook (33-0, 22 KOs) defeated IBF welterweight champion Shawn Porter (24-1-1, 15 KOs) by a 12 round majority decision to take his IBF 147 pound title at the StubHub Center in Carson, California. The final judges scores were 114-114, 117-111, 116-112. In my view, I had Porter winning a comfortable decision.
I couldn't more than 2-3 rounds to Brook because he just holding and missing shots all night long. Brook landed 1-3 good shots in each round, but Porter was landed 15-20 good punches each round while fighting through the constant clinching by Brook.
It looked like the judges gave Porter zero credit for his body punching in the fight, because he was nailing Brook with good body shots in the inside, as well as head shots while fighting through clinch after clinch.
The judges' scoring seemed highly subjective, as Porter was the one pushing the fight for the entire 12 rounds in coming forward; Brook was holding at a very high level and just trying to stop Porter from throwing his shots. It was pure defensive spoiling on Brook's part. The amount of holding that Brook did in the fight to shut down Porter's inside work was at a level that is rarely seen.
The referee that worked the fight opted not to take points away from Brook for the clinching, but you can make can make an argument that Brook deserved to lose several points for the constant holding. When you're holding more than 10 times per round like Brook was doing, you really need to have points taken away.
***
Anthony Dirrell (27-0-1, 22 KOs) took WBC super middleweight champion Sakio Bika's title tonight in beating him by a 12 round unanimous decision in a fight that was as ugly as their first match-up last December.There was a massive amount of fouling by both fighters, but Bika seemed to be the one that was most often guilty. The judges scored it 117-110, 116-111 and 115-114. Bika was docked a point in the 8th for a low blow. The punch from Bika actually landed on the belt line of Dirrell.
***
WBC lightweight champion Omar Figueroa (24-0-1, 18 KOs) got a miracle knockout in the 9th round against challenger Daniel Estrada (32-3-1, 24 KOs). Figueroa went into the 9th with a bad cut over his left eye from a clash of heads in the 8th. Figueroa landed a right hand to the head that put Estrada down. He got back up, but Figueroa threw a storm of punches to get the stoppage.
***
In a fight that looked more like a sparring match than an actual bout, heavyweight Deontay Wilder (32-0, 32 KOs) defeated journeyman Jason Gavern (25-16-4, 11 KOs)by a 4th round stoppage when Gavern failed to come out for the 5th. Gavern was knocked down by right hands in the 3rd and 4th round. The knockdown in the 4th left Gavern on his hands and knees. He beat the count and the fight continued. It was a wise move by Gavern not to come out for the 5th, because Deontay was getting serious and no longer playing around with him like he'd done in the first three rounds.
***
Other boxing results on the card:
Jorge Linares KO2 Ira Terry
Alan Sanchez TKO 3 Jose Luis Ramirez Jr.
Dominic Breazeale TKO 2 Billy Zumbrun
Callum Smith TKO 1 Abraham Hernandez
Luke Campbell TKO 2 Steve Trumble
Fabian Maidana TKO 1 Phillip Soriano