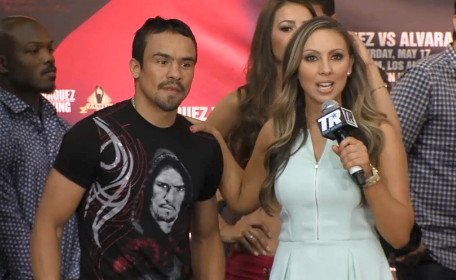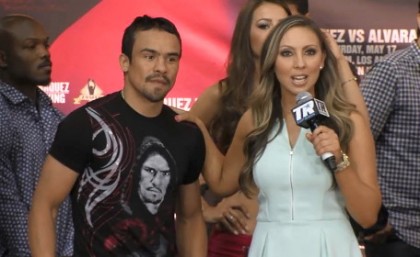 40-year-old Juan Manuel Marquez (56-7-1, 40 KOs) reportedly wants to get a title shot against newly crowned IBF welterweight champion Kell Brook (33-0, 22 KOs), presumably for his next fight date in November or December. Marquez wants to try and capture a 5th division world title, and Brook is the easiest of the fighters he'd have a chance to do that against now.
Marquez doesn't match up against WBA/WBC welterweight champion Floyd Mayweather Jr, and WBO welterweight champion Manny Pacquiao is obviously another tough match-up for Marquez as well, even though he arguably beat Pacquiao 4 times already.
Marquez is ranked #1 WBO, and he would have no problems getting a shot at WBO welterweight champion Manny Pacquiao for a 5th fight if he wants the fight. Pacquiao's promoter Bob Arum is very interested in matching Pacquiao up with Marquez for a 5th fight. Pacquiao's trainer Freddie Roach also wants to get a chance to match Pacquiao up against Marquez to have him avenge his loss from 2012.
Marquez has problems in facing boxers, and I suspect he'll struggle against Brook because he has a lot of little tricks that he uses to win his fights. We saw last night with Brook's clinching that he was willing to use one of his tricks.
Against Marquez, you can expect Brook to jab and move constantly in order to keep the Mexican warrior from getting to the inside and taking advantage of Brook's lack of fighting skills at close range. If Marquez does get close, you can expect a lot of holding by Brook to shut him down.
Brook's promoter Eddie Hearn says he wants to get a big fight for Brook next year, but he didn't say anything about his next fight in November or December being a big fight. That means that Hearn likely won't go for the idea of matching Brook against Marquez for his next fight.
It's likely that Hearn will take advantage of Brook taking an optional defense of his title against whoever they want to match him up against in the top 15. Typically that means a bottom dweller type opponent without the ability to do much unfortunately.