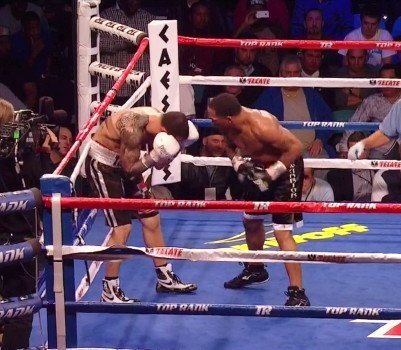 After having endured 21-months of frustration and inactivity (both at least partly brought on by himself), always-exciting southpaw slugger James Kirkland returned to doing what he does best last night in Atlantic City: giving fans of a slugfest just what they want. In brutalizing a brave and previously unbeaten Glen Tapia, Kirkland came back in a quite roaring fashion.
All over Tapia from the opening bell like the proverbial cheap suit, Kirkland gave fans a sizzling value for money performance. Kirkland threw everything at Tapia and expended a ton of energy in doing so. Tapia? he showed a ton of heart in taking all that came his way. In the end though, Kirkland, as he did in that other thriller with Alfredo Angulo, broke Tapia's heart. Pounding his man in a corner in the 6th-round of a fight of the year candidate, Kirkland would not be denied and referee Steve Smoger had no choice but to dive in.
Kirkland, often vulnerable in the early going of a fight – all the more so last night, when rusty after such a layoff – took some good shots to the chin against Tapia and he held up pretty well. And when Kirkland, back with ace trainer and true friend Ann Wolfe, is sharper as he surely will be in his next fight, then watch out!
A genuine fan favorite (even though Kirkland did hear some pre-fight boos last night, these boos soon turned to cheers due to the mesmerizing action he was treating the fans to), the Texan who is now 32-1-(28) is back and ready, willing and able to bring some real heat to the light-middleweight division. Tapia, looked after by Pat Lynch – who of course guided the career of the ultimate highlight reel himself in the late Arturo Gatti – made us think, just for a few fleeting seconds, that he might just be another Gatti himself, but he was unable to pull off the miracle and turn last night's war around. Still, the 23-year-old can come again.
But 29-year-old Kirkland, having had the look of a man who relished the rough and tumble action he was smack in the middle of last night, can now look to forward to some big, big fights at 154-pounds. Providing he makes no more admittedly dumb mistakes/career moves, Kirkland can still achieve all he looked on his way to achieving back when he was terrorizing the likes of Eromosele Albert, Brian Vera and Joel Julio.
Kirkland against the stars of the 154-pound division, Saul Alvarez and Miguel Cotto, really would be something. In fact, it's almost always something when Kirkland is rumbling in the ring!