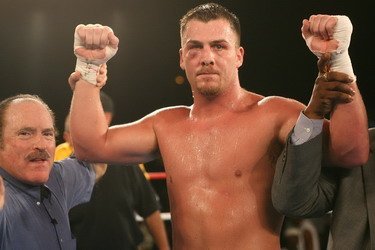 Joey "Minnesota Ice" Abell 29(KO 28)-6(KO 4)-0 couldn't turn it down, even if it is short notice. Joey's break came when veteran Sherman Williams suffered an injury in training camp. Williams had to back out of his December 14th bout with Kubrat "The Cobra" Pulev 18 (KO 9)-0-0. The winner has a shot to fight Wladimir Klitschko. Somebody wake Joey, this is a terrific chance.
It's safe to say Minnesotans believe in Joey. Who knows, in this crazy sport, Joey (a southpaw) might carry off his best imitation of the late hard punching Corey Sanders. Back in 3-08-2003 the man from South Africa, who also was a big underdog, uncorked a big left on his way to stopping the then undefeated Wladimir. There's no doubt Joey can punch, but will he move his head enough to keep from catching one himself?
When comparing the two guys physically, they seem pretty similar, about 6'4″ or five, with about 76″ or so wingspan. Examination of their records shows that Joey has almost twice as many fights, but not the same quality of fighters. Pulev outpointed Tony Thompson. Thompson's two other losses were both to Wladimir. The Thompson victory was no easy task for Pulev considering he had only 17 fights. Pulev also managed to hand Alexander Dimitrenko his first defeat and by KO in the eleventh round. The majority of Pulev's fights have been against fighters with winning records, and several with very impressive records, so that's a big plus for Pulev, the EBU champ from Sofia, Bulgaria.
The big minus for Joey is getting stopped four times. Of course that is a definite concern, but at the heavyweight level it's reasonable to say the likelihood of it happening is much greater than in other weight classes. It doesn't necessarily mean a guy has a glass jaw. Plenty of good and great heavyweights have been stopped. Another point in Pulev's favor is on such short notice, Joey has to travel to the Jahnsportforum, Neubrandeburg, Mecklenburg-Vorpommern, Germany.
It would seem three other things might be of more concern. Two are on the offensive side and one is defense. It's reasonable to assume Pulev is going to be coming full throttle, throwing a lot of punches from different angles. His focus seems good, so he punches to openings and not just to be throwing. Therefore, it would seem reasonable to say Joey needs more movement than he has exhibited in the past. Adrien Broner recently said something like "He can't hurt me if he can't hit me." Of course, he was talking about Maidana. Reports are that Joey is a good athlete, so the ability to move more is certainly there. He is a southpaw, so that could be a plus as well. So, we agree there must be more head movement, and not just raised gloves. He doesn't need the side to side, leaning back kind of slipping either. He needs to avoid punches and move in at the same time to land his counters.
Joey knows he needs to use his legs, but not to move straight back. Pulev is an undefeated confident, aggressive fighter. So far he's been successful at coming right at his opponent, and in doing so he might be leaving openings. Knowing that, just as Evander Holyfield knew in fighting Mike Tyson, a guy is the most vulnerable when he's attacking…..i.e when he swinging and moving right at you. Right now it's a safe bet Joey is reminding himself of that, setting his mind to exploit it. He's visualizing himself throwing short, straight counters, including a hard jab to either the head or body. It's safe to assume Joey already knows one of the best ways to deter an aggressive fighter is to get inside the guy's punches and counter him with body shots. After the guy has run into a few hard ones, it quickly dampens his aggression and softens him up. Joey will see Pulev starting to keep his hands home more.
Joey knows what to do. He understands he cannot go into a protective shell, thinking raised gloves will protect him. He is a successful, hard punching veteran fighter. We all need reminders, though, and Joey is no different. All lefties need to be reminded about keeping their front right foot to the outside of the orthodox fighter. Joey has practiced these moves over and over. Right now, let's hope Joey is picturing himself doing all these goods things. He's not only moving laterally, but in as well, firing off straight, short hard lefts, or right hooks to the body. Fans from the cold country envision Minnesota Ice carrying out such moves and then pivoting, ready to nail Pulev again as he turns. Repeating the process ain't a bad idea, so he does it again. Grace and power, a winning combination. Actually, it's a beautiful thing to watch.