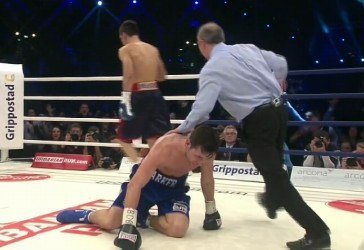 Felix Sturm claims the IBF middleweight title with second round stoppage of Darren Barker
The UK's Darren Barker, now (won 26 (KO 16) lost 2 [KO 2] drawn 0), was stopped by Germany's Felix Sturm, (won 39 [KO 18], lost 3 KO 1 drawn 2), in two rounds of fast paced action that surprised both camps in Stuggart, Germany last night. The lead up for both fighters going into this fight could not have been more different, Sturm coming off two low key fights after losing to Daniel Geale, late in 2012, and Barker coming off a career best performance defeating Geale for the IBF Middleweight belt in August 2013. Both fighters surprised commentators by electing to trade from the off, Sturm getting the better of these and starting with a high tempo from the word go. In what was an entertaining first round, with both Barker and Sturm having success, it was ultimately the wrong strategy for Barker to employ against a revitalised and physically strong Sturm. Sure Barker was having success, but after two relatively heavy knockdowns, Sturm was landing the more telling blows. Barker, for some reason, neglected to utilise his upright boxing skills, dipping unusually low coming in and inviting Sturm to tee off clubbing shots – catching Barker on the top of his head.
After the fight it transpired Barker had been whisked off to hospital for further tests and scans on an apparent damaged hip – an injury that has dogged his professional career. In the post match analysis Matchroom promoter, Eddie Hearn, appeared notably disappointed and stated that Barkers early tactics did not reflect the game plan that had been devised by the team. Darren Barker is a well liked and respected boxer in England and has sound technical skills, which he did not elect to use last night. Sturm, on the other hand, showed the boxing world he is still a force to be reckoned with at middleweight, and this fight was one he had to win. Sturm showed his strength, he came in looking in tremendous shape and took the fight to Barker from the opening second of round one, forcing Barker onto the back foot.
Fights, like these, can show the unrelenting nature of our sport, where you can achieve great heights and in under six minutes, of two rounds, be suddenly facing retirement. It can be likened to a game of snakes and ladders, one roll of the dice and you climb the board, another roll of the dice and you are back at square one.
Unfortunately this is how boxing can play out sometimes – it is what makes the sport so unique. When you are in the ring, bar your corner team, you are effectively alone in a one on one battle – fail to execute the plan or make adjustments and it can be your downfall. Sturm has to be commended for bouncing back from losing his title to Geale and making history by becoming Germanys only four time world champion. The focus should not be on Barkers injury, but Sturm's performance. Barker's apparent bad luck should not take away the recognition Sturm rightly deserves after his emphatic victory.
The outcome of this fight will now dictate the opposing career paths of both fighters. Sturm is surely set for some great fights at the latter stage of his career and Barker seemingly with little option but to retire. His win over Darren Geale was a great achievement and as disappointed as he will be, his place in the British record books is written alongside other middleweight greats. Yes it was a short lived reign as IBF middleweight title holder, but Barker has plenty to be proud of. No one will forget how Barker managed to get off the canvas after a crushing body shot by Geale, to claim a point's victory and become the IBF middleweight champion of the world – despite last night's damaging loss. It is now looking likely that Barker will retire. However, fear not, the domestic middleweight scene in the UK is still brimming with world class operators including top contenders Martin Murray, Andy Lee and the never dull Matthew Macklin who also won last night in a ten rounder against the unbeaten Lamor Russ at the Boardwalk hotel. So for many UK fans last night, they lost a champion, but Sturm has earned his respect as a leading contender, potentially giving some great fights down the line with the likes of Gennady Golovkin and Matinez to name but a few. So for now let's wish Darren Barker all the best and give Sturm the credit he rightly deserves.
Andy Picken
twitter@handywriter4u
www.handywriter.co.uk