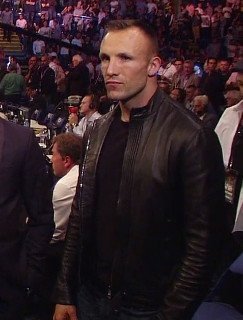 By Frank Walsh: Born and raised in Lisburn, Northern Ireland. Brian Magee's journey began as an amateur boxer, representing Holy Trinity boxing club in Belfast. A highly successful amateur career saw Magee bag four Ulster senior titles, a Commonwealth bronze medal and a place on Ireland's boxing team at the 1996 Olympic Games.
Turning professional in March 1999, Magee's boxing career would ascend to the upper echelon of the super middleweight division. Defeating Britan's Neil Linford of Britain, provided him his first professional title, the IBO intercontinental super middleweight strap in January of 2001.
Magee successfully defended the title on eight occasions before lifting the British super middleweight title, beating the previously undefeated Scot, Stevie Maguire.
Returning from a thirteen month absence from the ring, and showing no signs of ring rust, Magee defeated Mads Larsen to be crowned the European super middleweight champion.
Last year proved what would be a standout year for Magee when on the 9th of March he entered the ring to wage war, for the WBA super middleweight title against Lucian Bute in front of a partisan crowd in Canada.
The early rounds of Magee's biggest test between the ropes started in a cautious manner before Magee landing a left hand in the third stanza that finally got Bute's attendion. The Canadian replied with his own solid right hand to the body in the sixth that sent the Irish man to the canvas.
Recovering well, Magee stood his ground and traded with Bute, but a return onslaught to the body staggered Magee followed by a vicious left uppercut to the head was all the referee needed to see to call a halt to the contest.
Credit must be given to Magee for producing a tough test early on for Bute with great inside work while displayed great heart to withstand some ferocious body shots through out the contest.
Bute himself admitted afterwards that Magee was tougher than he expected, which is an indication of Magee's determination and guile that continues to drive him on.
Once again Brian Magee finds himself entering the lions den, this time against Mikkel Kessler for the WBA Super-Middleweight Championship in Herning, Denmark on December 8th at Jyske Bank BOXEN arena.
Magee believes that this fight will be his toughest assignment to date against an opponent who has mixed it with the who's who of the fight game.
"This fight is a difficult one, but going into the ring against Kessler is the highlight of my career. When I finish my career I can look back and say I met of the greatest super middleweights in the game." He added to ensure his fans that he has no intention of going into the lions den to be devoured, "Mikkel is a master of the ring, but I will take the victory home."
Although we will have to wait until December 8th to find out if Magee emerges from the lions den with the WBA super middleweight title, there is one undeniable surety Kessler must realise and that is that Brian Magee will come to fight.