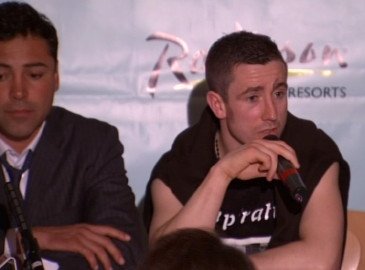 By Michael Collins: To show you how far down Amir Khan's once promising career has plummeted, he's now looking to go over old ground by taking on a domestic level fighter in 33-year-old Paul McCloskey (24-2, 12 KO's) in a rematch in December. McCloskey, at one time a contender in the light welterweight division, he's lost two out of his last four fights [three if you count his gift decision over Breidis Prescott].
In an interview with the BBC Sport, McCloskey's manager Francie McNichol said "Both parties are serious. The dates being mentioned are 8 or 15, December in Manchester…I would expect that something will be decided in the next week."
There's a couple of ways to look at it. One, Khan you could possibly see it as Khan giving up on being a world class fighter and just focusing on facing domestic level opposition in the UK to collect easy paydays to milk his still very high popularity over there. Or you could see this as the beginning of a possible long process where Khan is steered away from anyone with halfway decent power and matched against pillow punchers that have no chance of tapping his fragile chin and putting him down for the count like Breidis Prescott and Danny Garcia did.
Khan has lost his last two fights and his career is on the brink of failure. It's hard to imagine that it was only last year where Khan was talking about wanting to fight Floyd Mayweather Jr. and seeing himself with a good chance of beating him. Khan has now been brought down to earth after losing to Lamont Peterson and Danny Garcia in his last two fights.
I hate the idea of Khan fighting McCloskey, although the British probably will like it a lot. Khan already showed that he's a better fighter than McCloskey last year when he beat McCloskey by a 6th round technical decision in a fight where McCloskey barely laid a glove on Khan due to his lack of hand speed. I'd much rather see Khan fight Prescott again to try and avenge an actual loss instead of looking to fight a guy he already soundly beat in the recent past in McCloskey. Why fight this guy? It seems pretty obvious. Khan wants an easy win over someone with no power that isn't much of a threat to beating him.
I'll be surprised if HBO or Showtime agree to televise Khan's fight against McCloskey. I don't know why they would agree to show this mismatch, but I can imagine that the fight will be shopped around until someone is willing to show it.