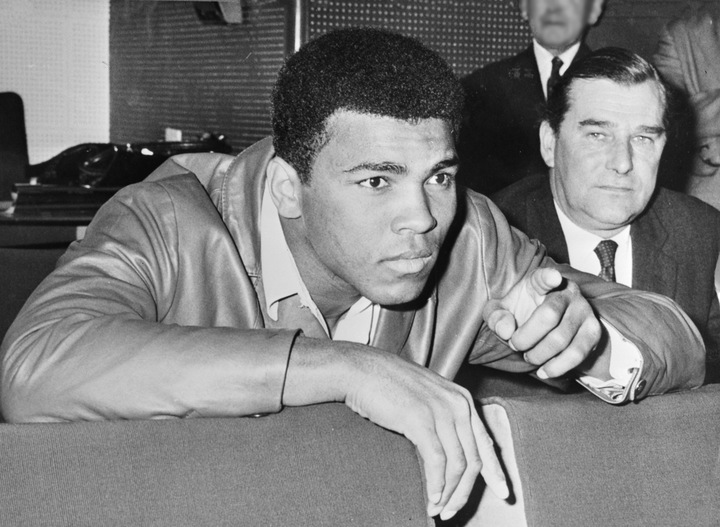 We didn't in all honestly learn too much from today's "He's Back" Tyson Fury presser in Manchester. We've known for some time now how the unbeaten, never-lost-his-titles in the ring former heavyweight champ will launch his comeback in his home town on June 9, and we've heard all the bravado from Fury, his insistence that he was, is, and always will be the best heavyweight on the planet.
Disappointingly, though, no opponent was officially confirmed today, with promoter Frank Warren merely stating how we should not expect anything big, that Fury will be fighting an opponent of his (Warren's) choosing; a fighter who is capable of allowing Fury to shed some ring-rust – nothing more.
How the sport has changed.
Back when he was returning, from an even longer layoff – three years and seven-months compared to two years and seven-months for Fury – the incomparable Muhammad Ali was afforded no such easy comeback foe, no such guaranteed win. Fury, likely to have two, maybe three "easy" fights before he goes for anything big, according to Warren anyway, will have to look back and recognise how much tougher his boxing idol Ali had it back in October of 1970.
Having been stripped of the world title in 1967 due to his conscientious objector stance regarding the ongoing war in Vietnam, the peak (or approaching his peak, perhaps not quite there yet) Ali lost his finest years. Almost four years in all, an amount of time that could arguably have seen the always-active Ali engage in something like 10 or 12 fights – and imagine how great his unbeaten record would have been had things turned out this way!
Upon his return, one he at times felt would never be permitted to take place, Ali met top contender Jerry Quarry; this with just six weeks in which to prepare. Then, after beating Quarry on a badly cut eye, Ali met the rough and tough Oscar Bonavena, this just less than two months after the Quarry fight. Truly astonishingly, Ali then fought all-time great Joe Frazier, for the world title, in The Fight of The Century, with the entire world watching, a mere three months on from the hard slog with "Ringo."
Fury by comparison, has had a whole lot more prep time ahead of his comeback, he will likely face two, maybe even three "gimme" opponents before his first world title fight on the comeback, and Fury has no Joe Frazier to tangle with. Instead, by his own admission, Fury faces the prospect of facing "wooden-tops" or "bums," Anthony Joshua and/or Deontay Wilder. And Fury, unlike Ali, has the luxury of taking his time as he makes his move at world title level.
Ali's greatness is well established, yet in many ways it is the hardship he successfully overcame in his first comeback campaign that was his finest achievement.