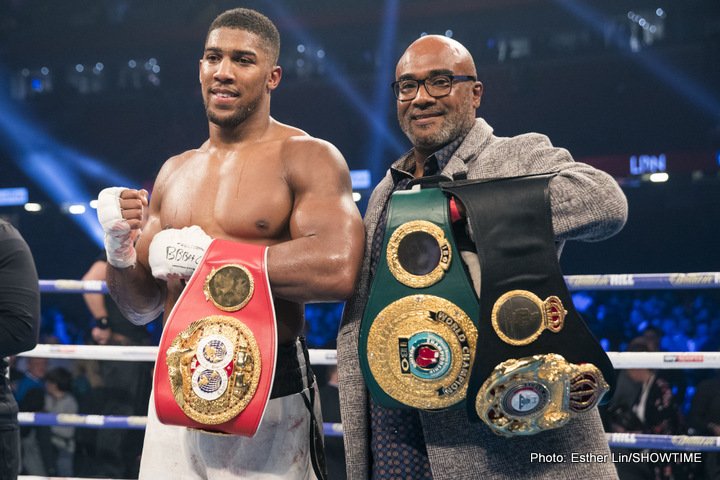 Everybody knows that Anthony Joshua put on the greatest sporting event of this year whilst selling out Wembley with a 90,000 attendance in London, England. For Mo Farah to win SPOTY, and to reach the heights that Joshua has done this year is not even conceivable. I for one at this present moment in time am disgusted to be a British citizen. It ruins everything that we stand for. The BBC are supposed to be a beacon of hope, and something that we can all put are trust in when listening or watching the media. The BBC now have as much legitimacy to the public at large, as The Sun newspaper does to Liverpudlians.
I for one do not exactly watch that much television anymore, but was happy to do so yesterday evening to watch the golden boy Anthony Joshua graduate into a further echelon of elite status. Many people in the boxing condominium have said to be great like Muhammed Ali, it is what you do outside of the sport as well as in it. Well, Anthony Joshua has well and truly now hit his first hurdle of injustice. How will he take it? I fully believe he will take it on the chin, and smile it off as the true gentleman he is.
Gary Lineker was the main presenter on the show, and the distain was written all over his face as Mo Farah was given the award. Mo Farah is a great sportsman in his own right, but has had nothing like a year Anthony Joshua has had. The BBC have played it very well, and it's as if they have made an example of him. Joshua is not worth his weight in gold to the BBC as Sky television broadcast all his fights.
However, to me this still makes no sense as the BBC have backed Joshua all the way in talk shows, documentaries and all programmes going really. The decision to not give Anthony this award is an utter disgrace, and I for one am now boycotting them. They do not deserve to have my attention, or my hard-earned cash in a TV licence. From now on they are getting diddly squat. If they give Anthony Joshua his award which he truly earnt I may entertain the idea of watching the BBC again one day, but until then the door has been closed, sound proofed and barricaded from head to toe with resilience.
When the award was announced the all the cameras were pinned on Anthony Joshua. The true class act in which he is, he rose and as soon as Anthony rose the rest of the audience followed suit. They followed their real king. Some of the viewers in the front row were even shaking their heads as they stood up, in the sheer disbelief as to what had just happened.
Mo Farah took the award even though he didn't even manage to turn up to the event, and gave the worst ever interview seen to mankind. SPOTY (Sports Personality of The Year) has been notorious in their decisions in previous years as far as boxers are concerned. I just know this is something which Anthony Joshua in his heart of hearts really wanted. He would have wanted the acceptance from the British public which he already has in spades, but the bigwigs of society have tried to hinder him from happiness, and deny him of his dream. It's wrong on so many levels, but sadly it seems outside of boxing, the world is just as cruel and tainted with evil.
Muhammed Ali received the BBC's Sportsman of the Century in 1999, and Anthony Joshua would really have liked to at least make some form of headway towards his outstanding legacy. In 1999 Lennox Lewis won SPOTY, after unifying all the belts in the heavyweight division, and maybe this is what Joshua will have to do, but as I recall the name of it is "Sports Personality of the Year".
Anthony Joshua has more personality in his boxing gloves than Lennox Lewis has ever had in his entire life time. It will be very interesting to see, as there may be a public outcry in wanting to see the official votes or an investigation into it at least. Something fishy is going on, and stones need to be unturned to find out the truth.
There is the very slim chance that Mo Farah did win legitimately, but I highly doubt it. He runs around in circles for a living, whereas Anthony Joshua fights in the pugilistic sport of boxing and is the heavyweight champion of the world. There really is no comparison. Only time will tell how Anthony Joshua now takes the first real glitch in his career from the outside world as we know it. Somethings are out of our control and we just must roll with the punches.