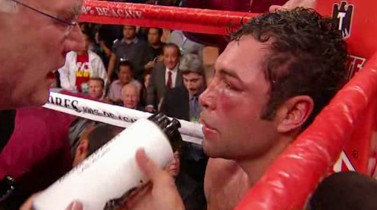 By Frank Gonzalez Jr.: As we've all heard a million and one times, a good big man beats a good small man. That cliché mean nothing when the bigger man isn't all that good anymore and hasn't been in a few years. Its time to get out the Kleenex if you're a hard core DLH fan because Oscar's time is up. He demonstrated Saturday night that he no longer possesses the agility, strength or ability to compete at the highest levels of boxing anymore.
The so called, "Dream Match" turned out to be a Nightmare In Las Vegas for the Jr. Middleweight turned Welterweight, Oscar De La Hoya (39-6, 30 KO's) when he faced former Featherweight Star and current WBC Jr. Lightweight titlist, Manny Pacquaio (48-3-2, 36 KO's) at a catch weight of 147-pounds. It turned out to be the worst beating Oscar would ever experience in his entire boxing career..
This fight had about as much intrigue as the media could manufacture, including HBO's constant showing of their promotional vehicle, "24/7" which sought to convince us all that it was going to be one of the greatest fights in boxing history. I tried to watch it but every time Oscar opened his mouth, it was like fingernails running down a blackboard, so I'd quickly change the channel. If you've seen one episode of 24/7, you've seen them all.
The bottom line is that while this fight was going to be a big win for Oscar's bank account, this fight was going to be a lose/lose situation for Oscar in terms of sport, competition and legacy. What "great fighter" wants to end his career getting destroyed by a guy who normally fights at a weight class 20 pounds his junior?
On paper, this sounded like a match that a well conditioned Oscar should have been able to win. Pacquaio is smaller at five-foot-six, to Oscar's five-foot-ten plus stature. During the promotions, they looked similar in size but in the ring, Oscar looked much bigger than Pacman. Oscar has been campaigning at 154 since 2001 and hasn't fought at 147 since beating a then blown up Lightweight, named Arturo Gatti in March of 2001.
Many thought Oscar should have fought someone in his own division or closer to it. Antonio Margarito remembers how Oscar said he'd fight the winner of Cotto vs. Margarito—until Margarito took all Cotto could dish out and then finished him off with a bruising tenth and eleventh round that saw Cotto downed by a barrage of Margarito punches and losing by TKO 11. Oscar took a lot of deserved criticism avoiding Margarito and for selecting 135-pound Manny Pacquaio for his potentially final, big money-maker PPV Event.
The fight started with Manny landing the first clean punch, a left to the face. Manny had an excellent strategy for beating the bigger Oscar and it was simple; stay off the ropes and in the center of the ring and then dart in and out of range with combination punches. Using his superior speed and reflexes, this strategy worked like a charm and from round one through round eight, Oscar had no answer for the onslaught coming from the smaller man. In the simplest terms, Manny beat Oscar to the punch all night.
Round after round, it was Pacman, landing the lots of lefts and speedy combinations. Pacman opened a cut over Oscar's right eye with all the lefts he was scoring and from the end of the first round, Oscar's face was reddened and continued to swell from all the battering as the rounds wore on.
Oscar was never able to establish his jab or any kind of rhythm. In his corner between rounds, his trainer du jour, Nacho Beristain implored Oscar to use his jab. After a while, his corner was warning him that they'd stop the fight if he continued to take so much punishment. Then referee Tony Weeks also chimed in on that theme during a visit to Oscar's corner between the seventh and eighth rounds.
This was the most embarrassing beating Oscar ever took in his career. Manny Pacquaio won every single round. Then, after pummeling Oscar good in the eighth round, Oscar's corner made a wise, collective decision to not come out for the ninth round.
Manny Pacquaio made Oscar pay in pain for what should be Oscar's last Pay-Per-View event. It's no surprise that Pacquaio was able to out-class the fading Oscar De La Hoya in front of the world and a packed house at the MGM Grand in Las Vegas.
Oscar has managed to piss a lot of people off in recent months for a variety of reasons, which include his aversion to fight guys who deserved the big bucks a DLH fight brings. Well, Christmas is over for aspiring future DLH opponents (if Oscar doesn't retire) because there's no justification for any future DLH fights to be on PPV. This has been true for a few years now but Saturday's beating at the hands of a Lightweight cemented the case.
The fine folks at HBO PPV favored paying fans with two other under-card matches that were about as competitive as watching a pair of Pitt Bulls against a couple of dead Hamsters.
Juan Manuel Lopez (24-0, 22 KO's) of Caguas Puerto Rico defended his WBO Jr. Featherweight title against Argentine, Sergio Medina (33-2, 18 KO's). Lopez punched away while Medina covered up and ran away. Medina went down three times in the first round before the referee, Joe Cortez, stopped it. Medina showed zero interest in fighting and was clearly there to get paid for helping improve Lopez' record in expedient fashion. Lopez is an explosive fighter who TKO'd the very tough Daniel Ponce de Leon last June. Medina does not deserve to be paid for his disgraceful showing and utter lack of effort.
The other under-card fight was a Jr. Welterweight bout, where Jeffrey Resto (22-3, 13 KO's) was downed twice in round one by Victor Ortiz (23-1, 1, 18 KO's) and again in the second round leading up to another early stoppage.
How in the world do the people at HBO PPV think fans want to see fights like THIS??!! At least give us a competitive match or two to warm us up to the Main Event. In total, we got three complete mismatches. Nice job HBO PPV!
Now that the DLH vs. Pacman fight is history, Manny should focus on his new division at 135 pounds, where there roost is ruled by a man with three of the four major belts—just waiting for someone to step up and fight him. Joan Guzman decided at the last moment not to fight him recently. Manny Pacquaio is being heralded as the best Pound for Pound fighter in boxing. He'd do well to vindicate that praise by fighting Nate "The Galaxxxy Warrior" Campbell and proving that he is, at least, the best fighter in his own division.
* * *
Comments can be emailed to dshark87@hotmail.com