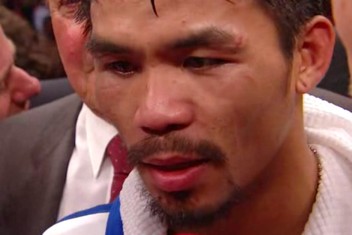 by James Slater – What can one say about the incredible Manny "Pac-Man" Pacquiao except good things? Last night, in beating up and surely retiring for good fellow all-time great Oscar De La Hoya in what can only be described as a huge upset, the 29-year-old Filipino did something incredible. Now having made his mark in weight divisions from flyweight up to welterweight (even though there was no title on the line last night) Pacquiao is without a doubt the finest fighter not only to have come out of his country, but in the world today.
Yet despite all his talents and despite being able to do what he did last night, Manny remains a humble and very likeable person. Never letting his greatness go to his head, the gifted southpaw prefers to let his countrymen and women take the glory his fast fists bring. Last night, whilst being interviewed, first by Larry Merchant and then by the UK's Ian Darke, Pacquiao called his interviewer sir. This after pulling off the finest and most shocking victory of his career! Clearly, what we are dealing with here, inside and outside the ring, is someone truly special.
And to think, when last night's "Dream Match" was first announced, and right up until its first bell rang, vast numbers of fans and experts were calling the fight a bad joke of an event, a bout that would do nothing but line Oscar De La Hoya's pockets – a fight many fans said they were going to boycott and refuse to pay to watch. How do these people feel now? If they were as good as their word, they missed something both astonishing and historic last night. In short, Pacquiao didn't just win, he dominated – and who predicted that beforehand?
Surprisingly retaining his speed along with a fair amount of his punching power, "Pac-Man" truly ate up the former "Golden Boy." Landing his southpaw left cross almost at will, Pacquiao out-boxed and wholly out-punched De La Hoya, before busting up his face and then, in what was deemed almost impossible beforehand, was on the verge of not only a stoppage victory, but an outright KO victory! Many mouths were agape last night at The MGM Grand, Las Vegas, and with good reason. We asked ourselves, could what was happening before our eyes really be true?
Some people will no doubt say, cynical as they are, that Pacquiao did nothing but beat a shell of a man last night. And it's true, Oscar looked a faded force, one who had taken a lot out of himself by getting down to 145 pounds – his lowest weight in years. But this should not take the achievement away from Manny. Even an older, faded bigger man – a MUCH bigger man – should have given Pacquiao a rough time in there. But Oscar, try as he did, could not cope either with the Filipino's speed or southpaw stance. Indeed, Pacquiao looked so good, his performance begged the question of whether or not he'd have been able to do this to a fresher De La Hoya. That's how great Manny was last night, he made us think this way.
In winning last night, Pacquiao also proved his trainer, the wise Freddie Roach, is neither crazy nor foolish. He said all along that Oscar wouldn't be able to "pull the trigger," and wow, was he correct! A one-sided fight was expected, almost feared, by many boxing folk last night – well, we got a mismatch, but not the way we worried we would. It's still hard to accept now, hours after the bout; De La Hoya was no match, at all, for Manny Pacquiao. Who thought they'd be reading anything like that the Sunday after the "Dream Match?"
It still takes some believing: Pacquiao WRTD 8 De La Hoya!