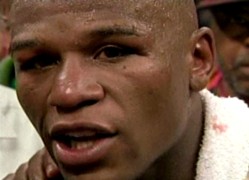 LOS ANGELES, CA – With critics threatening that boxing was in trouble and in danger of losing its grip on the American public, the sport needed a great event to give it a shot in the arm. On May 5th at the MGM Grand Garden Arena, boxing got what it needed when Oscar De La Hoya and Floyd Mayweather put on a dramatic 12 round bout that saw Mayweather win a close split decision victory, and the world responded to this event in a way never before seen, with records being shattered in a number of different areas.
"May 5th was a great night for two elite fighters, Oscar De La Hoya and Floyd Mayweather, and an even greater night for the sport of boxing," said Richard Schaefer, CEO of Golden Boy Promotions, the promoter of the event. "We knew that if you put two of the best fighters in the world together in the ring and promote it properly, it would show the world just how special this sport can be, and we proved that. Boxing isn't going anywhere except up."
"I'm pleased that boxing fans responded to this fight the way they did and the success of this event is something that the sport needed," said Oscar De La Hoya, the President of Golden Boy Promotions. "Floyd and I fought our hearts out and when the big names in the sport step up to the plate to fight each other, boxing and the fans benefit."
The fight – which set a new mark by being aired in 176 countries – generated 2.15 million pay-per-view buys and $120 million in pay-per-view revenue, a mark which eclipsed the previous all-time pay-per-view record by 160,000 buys.
De La Hoya vs. Mayweather broke a closed circuit record with over two thousand locations throughout the United States. In addition, the Las Vegas record was broken by selling 28,000 closed circuit seats.
The live gate at the MGM Grand, which clocked in at over $19 million in revenue with a sellout crowd in attendance of 16,200, broke the Nevada State record. Merchandise sales were greater than any other one-night event held at the MGM Grand, including concerts.
With numbers like these, it was no surprise that De La Hoya-Mayweather grossed more in one night than any Hollywood blockbuster, and no surprise that boxing is alive and well.