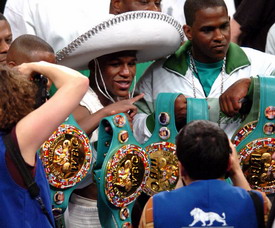 06.05.07 – By Yero Moody, Photos by Naoki Fukuda: Dominating! Boxing clinic! Wow! These are all adjectives to describe the performance of Pretty Boy Floyd Mayweather, Jr. on Cinco de Mayo vs, the Golden Boy Oscar De La Hoya. What stands out in my mind is the compubox statistics. For they tell the tale of the fight better than any writer or observer could ever tell. 43% of Mayweather's punches connected compared to only 21% of De La Hoya's and the power punch numbers clearly define what really happened in this fight. Mayweather landed a staggering 57% of his power punches against the bigger and stronger De La Hoya. A feat that is impossible to accomplish by running! De La Hoya due to Mayweather's superb defense was only able to land a mere 24% of his power shots.
De La Hoya got all that he asked for plus more. He got the smaller ring size, the Reyes gloves, the venue he chose, his company promoting the fight and a much samller man to tee off on. In fact, if what Mayweather said was true, he in fact only weighed 148lbs. on fight night. So De La Hoya was in fact in there with a legitimate welterweight. So what happened?
I'll be the first to admit my prediction of Mayweather getting a TKO victory was off. I overestimated Mayweather's ability to possibly hurt Oscar and I underestimated Oscar's defense. His defense was pretty darn good last night. However, I was deadly accurate in my prediction that Mayweather would easily defeat and outbox Oscar. Mayweather is simply the better boxer. He was able to land his jab, hook and uppercut at will. Oscar looked frustrated and desperate. If it wasn't for his tough beard and being the much bigger man he would have been even more dominated.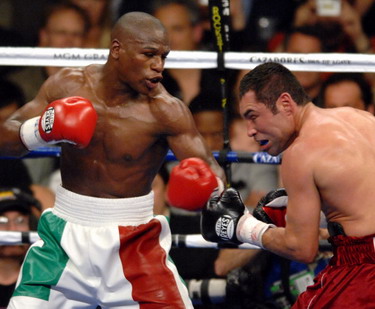 While this fight was no Hagler v. Leonard it was able to showcase exactly where Floyd stands amongst today's best fighters. Oscar De La Hoya is according to my rankings one of the top 5 fighters in the world today. He comes in only under the likes of Manny Pacquiao, Bernard Hopkins, Winky Wright, and Shane Mosley. For Mayweather to have thoroughly dominated such a fighter illustrates why he is the pound for pound best fighter in the sport right now.
For De La Hoya I predict he'll fight one more fight against an opponent he's sure to beat and ride off into the sunset as one of the greatest boxers in this era. He's given alot to this sport and he deserves all the respect he receives. His legacy is forever cemented. He will continue to be the best promoter in boxing and hopefully give us the fights we deserve to see.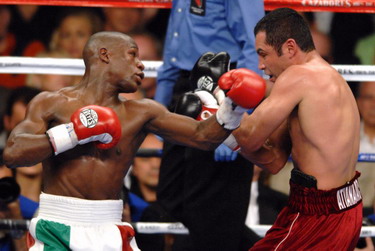 For Mayweather it means the answers to the question of his legitmacy as the very best fighter of this era have been answered. I strongly feel that Mayweather is not done and will not retire. His next fight will probably be another megafight against Sugar Shane Mosley and what a fight it will be. For all of the critics who cite Mayweather's lack of quality opposition, add De La Hoya to his resume and be silent! I'm sure that there are still those who dislike Mayweather so much and will no doubt be tossing out the names of Miguel Cotto, Ricky Hatton, Paul Williams and Antonio Margarito as people Mayweather should fight. I ask those with all sincerity, do you really think that they can defeat Mayweather? As a fan I would love to see those fight happen and I hope that at least one of those 4 fights happen. I say one of the 4 because I truly believe Paul Williams will defeat Antonio Margarito and Zab Judah will defeat Miguel Cotto. But make no mistake about it, Mayweather does not need to fight anyone of them to show he's the best of this era. He needs only to fight Shane Mosley because Mosley is the only man in my opinion who has a legitimate chance of beating Mayweather.
With the exception of the judge (whose name does not deserve to be mentioned ever again) I felt the scoring was fairly accurate. Neither fighter was hurt and deserve to be remembered for their great effort. Oscar truly showed the heart of a champion until the final bell. Thank you for reading!
Questions or comments: email me at yero_m@yahoo.com