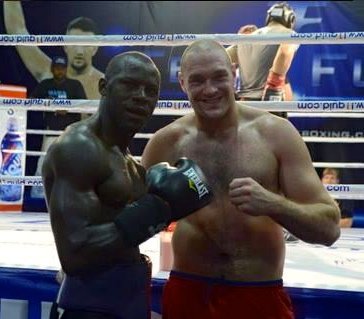 Former IBF cruiserweight king Steve "USS" Cunningham backs Tyson Fury to come out victorious in his domestic heavyweight super fight with David Haye.
Cunningham, who lost to Tyson when they met in the ring in April, is across in Belgium helping the 25-year-old prepare for his crunch clash against the former undisputed cruiserweight world champion and former WBA world heavyweight champion, Haye, on September 28th at the Phones 4 U Arena Manchester, live on Sky Sports Box Office.
"Because I fought the guy and I see his training camp, I can go a little bit further than say; 'May the best man win', I believe Tyson's going to win," Cunningham said.
"I'm impressed seeing this guy, he's so big and the work that he's putting in – you can see that he's really hungry and he wants this."
When the pair met in the ring on Tyson's US debut at The Theater at Madison Square Garden back in April, Fury recovered from a second round knockdown to win by knockout in the seventh.
Following their fight, it was clear Cunningham was aggrieved by the loss, but he stresses that is all behind him now and he is enjoying helping his former foe and undefeated former British, Commonwealth and Irish heavyweight champion prepare.
"I know there were probably some preconceptions about why I'm here or maybe it was about me getting some payback or vice-versa," Cunningham said.
"I'm not here for Steve Cunningham to try to beat up on Team Fury and to make another fight and to get back – I'm here to help him get ready for David Haye and that's what I'm doing.
"I'm here now and I don't think I'd be able to be here personally if there was any animosity – that's dead and gone and truthfully this helped me put it to bed even more.
"There are no hard feelings at all for Team Fury or Tyson Fury – I'm cheering him on while he's sparring the other guys – I'm telling him jab and do this, you're looking good and you know that's pretty funny right there."
While Cunningham has been training with Team Fury, the 37-year-old former two-time IBF world cruiserweight champion, has been impressed by the focussed Fury.
"I'm getting to see Tyson Fury and I'm getting to see that Peter (Fury) really makes him work hard for it in training camp," Cunningham said.
"He reminds me of myself when I was coming up; you want it so bad that you're just doing whatever – you'd jump down a mountain if they told you that's going to get you in the best shape.
"With what Tyson is putting himself through in camp, I believe he can beat Haye either way, points or knockout – I know things can go on in a fight that make you deviate a bit or change up or do something different, but I have Fury to win.
"I hope him the best and I believe he's going to beat Haye."