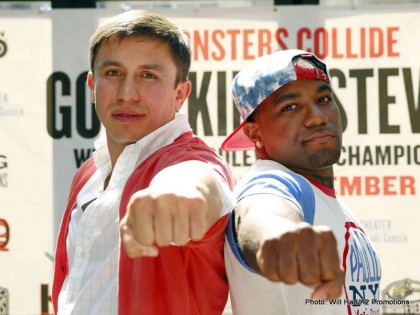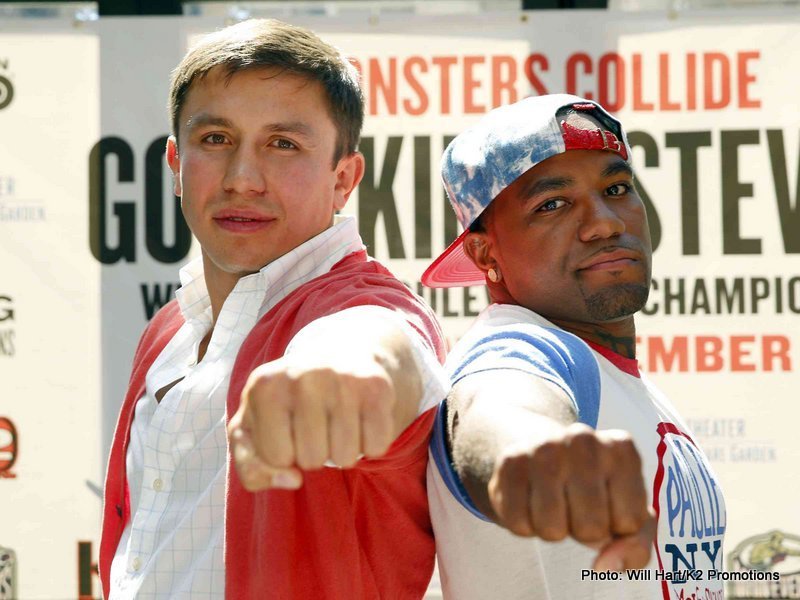 The beautiful Refinery Hotel Rooftop in mid-town Manhattan played host on Wednesday afternoon to a massive New York City media turnout to formally announce, MONSTERS COLLIDE, Middleweight World Championship at "The Mecca of Boxing" with boxing's fastest rising superstar, WBA and IBO World Middleweight Champion Gennady "GGG" Golovkin defending his titles against top rated contender, Curtis "Kryptonite" Stevens set for Saturday, NOVEMBER 2 at The Theatre at Madison Square Garden. The fight will be televised Live on HBO®.
Presented by K2 Promotions in association with Main Events, GGG Promotions and Madison Square Garden, tickets priced at $300, $200, $100 and $50 are available at the Madison Square Garden Box Office, all Ticketmaster outlets, Ticketmaster charge by phone (866-858-0008) and online at www.ticketmaster.com and www.thegarden.com
The press conference on Wednesday was hosted by legendary ring announcer Michael Buffer.
Quotes from Press Conference
Gennady "GGG Golovkin
"I'm very happy to be here in New York City. There is a long tradition of boxing here. Thanks very much to Madison Square Garden and HBO. November 2nd will be a great night for boxing."
Curtis Stevens
"All glory to God. Thanks to HBO, K2 and Main Events for making this happen. It's been a long road, some good, some bad, but I'm a new changed man. I'm ready to take over the Middleweight division and come November 2, he's going to see something he's never seen. I'm going to be the new champion."
Tom Loeffler, K2 Promotions
"We're very excited to bring Gennady back to Madison Square Garden. Credit Curtis for calling out Gennady even before he fought Saul Duran. We'd also like to credit Peter Nelson and Mark Taffet from HBO for helping make this fight. They were both very instrumental as well as the team from Madison Square Garden who we are thrilled to work with once again.
"Gennady is the biggest breakout star in 2013 and there are huge opportunities in his future."
Kathy Duva, Main Events
"We're very happy to be back on HBO and working with their team. K2 and Main Events have worked together in the past on some spectacular events."
"Curtis is a diamond in the rough finally having turned into a true gem. Every Superman has a weakness and it's up to Curtis, now known as Kryptonite to find it."
Joel Fisher, Madison Square Garden
"Every fighter strives to fight at the Mecca of Boxing and these are two great fighters who will add to the legendary tradition of Madison Square Garden."
"This fight has had the largest pre-sale of any boxing event held in The Theatre at Madison Square Garden."
"We're thrilled to have HBO back and couldn't be more thrilled to host this fight."
Peter Nelson, HBO
"It's great to see such a terrific media turnout. These are two burgeoning lights in the middleweight division, having this fight at Madison Square Garden only enhances the event."
'These are two fighters with knockout power and a credible danger to end the fight at any time."
Abel Sanchez, Trainer of Gennady "GGG" Golovkin
"We're not underestimating Curtis but in Gennady were looking at the next superstar in boxing."
Andre Rozier, Trainer of Curtis Stevens
"On November 2 we will get it done, when it's time to rumble, it's time to go. Curtis will be the new middleweight champion of the world. "
Golovkin has the highest knockout ratio of any active world champion, (89%) with a record of 27-0-0 (24KO's). He has burst on to the international boxing scene with four sensational knockouts over the last twelve months. His bout against Stevens will be the ninth defense of his WBA title.

Fighting out of his native Brooklyn, New York, the 28-year-old Stevens, 25-3-0 (18KO's), is coming off his most impressive performance of his career with a stunning first round knockout of durable veteran, Saul Roman on AUGUST 3.

Stevens' clash with Golovkin will also be his fourth start of the year.

A mainstay of New York City boxing, the heavy-hitting Stevens first shined as an amateur, amassing the third most knockouts in New York State history.