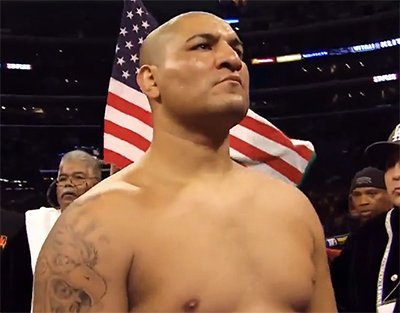 Seth Mitchell managed to cautiously labor his way to a tentative 12 round points win during his June rematch with Johnathon Banks. There were a few shaky moments for Mitchell early when it looked like Banks had him ready to go again, but a repeat of the upset KO from their first match was not to be this time around. To his credit Mitchell survived. He did this by fighting smarter and being incredibly careful.
It also helped that Banks was unusually lethargic. For whatever reason Banks was just not aggressive enough, especially following those key instances where he seemed to rock the man he had stopped in the 2nd round some 7 months earlier.
Can Mitchell employ similar tactics this Saturday to be successful when he faces Chris Arreola?
Probably not.
Even though Arreola looked pretty bad in his most recent outing when he lost to Stiverne in April, the available evidence seems to suggest that Arreola should have more than enough in his arsenal to stop the easily-wobbled Mitchell early.
The simple story here is that Mitchell isn't that durable. Despite all of Arreola's shortcomings and regardless of his apparent lack of dedication and physical commitment, he is still a tough aggressive boxer who packs a big punch. Maybe he doesn't have the hugest punch out there, but his punching power delivers more than enough wallop to take Seth out. It isn't as if Mitchell is some sort of defensive wizard who rarely gets hit. The lumbering Arreola will unload and find him eventually, probably very early in the fight.
Mitchell's best hope is to try to find any means possible to survive the early rounds and hope that Arreola becomes winded and discouraged. This will give Seth a fighting chance to try and emulate the type of lackluster victory he had against Banks.
But the problem for Mitchell is that Arreola is a lot stronger and more ferocious than anyone he ever faced, Banks included. For all of his failures on the big stage, Arreola is still one tough cookie. He also has more experience than Banks at this level, and this should serve Arreola especially well in this particular instance.
Mitchell seems like a dedicated guy with heart and determination, but it's doubtful that will be enough. I'd personally be surprised if Mitchell even makes it into the 3rd round. A 1st or 2nd round KO for Arreola seems the most likely outcome in this one.