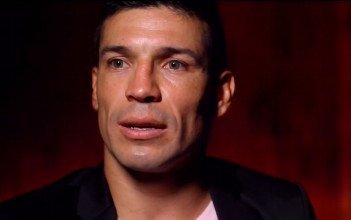 By Dwight Chittenden: If things go the way that Sergio Martinez (49-2-2, 28 KO's) envisions them to be this Saturday, WBC middleweight champion Julio Cesar Chavez Jr. (46-0-1, 32 KO's) is going to experience a lot of pain and suffering in taking his first loss of his career when they fight at the Thomas & Mack Center in Las Vegas, Nevada.
Martinez said "It won't be a quick knockout. I will punish him [Chavez Jr] a lot and after that I will knock him out and he will suffer a lot. I hope someone in your corner stops the fight because I will never stop. I will continue punishing you."
Unless Chavez Jr's chin is made of iron it's not likely that he'll suffer a great deal. Martinez hits with the kind of power that puts you down when he lands cleanly. Chavez Jr. is painfully slow with his movements and if he gets hurt by one of the southpaw Martinez's left hands, it's going to be hard for Chavez Jr. to survive it. Martinez tends to drop his opponents from single shots to the head. If he lands a clean left to the head of Chavez Jr. that could be all she wrote. The suffering won't enter into it.
Chavez Jr. is going to try and walk Martinez down on Saturday and use his huge size to dominate the smaller Martinez the same way that Chavez Jr. did with Marco Antonio Rubio. Martinez is about the same size as the 5'10" Rubio, and he could have problems with all the weight that Chavez Jr. is carrying. Rubio was pressured up against the ropes and really worked over by Chavez Jr. throughout the fight.
However, Rubio did land a lot of head shots against Chavez Jr. and had his eyes swollen. If Rubio can do that Martinez will have an even better chance of making a mess of Chavez Jr's face. Freddie Roach, Chavez Jr's trainer, had better have a good plan to keep Chavez Jr. from taking too many head shots because this fight could get out of hand quickly if Martinez is able to land his straight left hands cleanly all night.