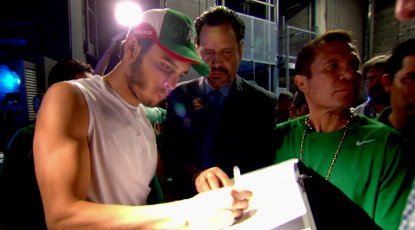 By Michael Collins: In looking at how average WBC middleweight champion Julio Cesar Chavez Jr. (46-0-1, 32 KO's) has looked throughout his boxing career, including his time as the WBC 160 pound champion, one has to wonder whether the 26-year-old Chavez Jr. would be as popular as he is now if his father wasn't the famous former boxing great Julio Cesar Chavez Sr. Chavez Jr. is able to draw huge crowds in stadiums and draw big ratings on HBO despite looking very mediocre.
To be sure, Chavez Jr. is winning fights but a huge part of that seems to be based on his size. He's winning on being the much heavier fighter compared to the smaller middleweights he's been facing. That's part of the criticism of Chavez Jr. He's like a light heavyweight/cruiserweight sized fighter that is somehow still able to get down to middleweight to compete against smaller guys and get and advantage in doing so.
If you compare Chavez Jr. to his father Chavez Sr. it's like night and day. Chavez Sr. was had a ton of talent. Everything was so easy for him. He had big time power in both hands, he was light on his feet, and he never had to dehydrate down to fight smaller guys. Chavez Sr. was made for fighting. Yes, he had a lot of fluff on his resume but he also had a lot of quality competition and he did well against them when he was in his prime. For a fighter that didn't have blazing hand speed, Chavez Sr. was still an incredibly talented fighter due to his power, heart, chin and athleticism. If you look at Chavez Sr's fights, he was so much superior to his son Chavez Jr. that it's hard to believe that their related. Chavez Sr. was leagues ahead.
So is main appeal for Chavez Jr. because of his famous dad or because of what he's accomplished in beating smaller fighters? Would Chavez Jr. be as popular as he is now if his dad was just some nobody? I find it hard to believe that boxing fans would make much of a fuss about Chavez Jr. if not for his dad. There's nothing really special about him, and I can't see Chavez Jr. being able to compete against fighters his own weight. If and when he's forced to move up in weight to super middleweight, I can't see Chavez Jr. being able to compete against the likes of Andre Ward and the other top super middleweights.