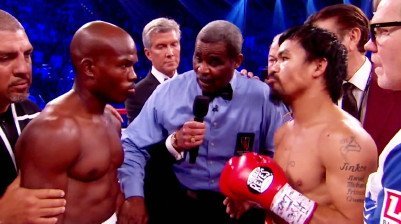 By Marcus Richardson: WBO welterweight champion Tim Bradley is less than pleased with the news that Manny Pacquiao won't be fighting him next in a rematch to try and avenge his loss to Bradley from last June. Pacquiao and his promoter Bob Arum have chosen to go with a proven pay per view money maker in 39-year-old Juan Manuel Marquez for Pacquiao's next fight on December 8th.
Bradley told the Desert Sun at mydesert.com "I can't believe these guys. He didn't want any part of me. Marquez is an easier fight. He knows that a fight with me and two good legs are going to be hell…Any champion who lost his belt, you would want to redeem yourself."
In fairness to Pacquiao, he probably does want to avenge his loss to Bradley, but it's not just Pacquiao making the decisions here. It's a team process and and I think he realized after hearing the arguments from his fellow team members that it was simply more logical to go with Marquez because of his potential to draw in more PPV buys from his large Mexican fanbase. Bradley still doesn't have a large fanbase and it's going to take a while for him and Arum to build one up.
With Pacquiao starting to show signs of aging, I don't think Arum has enough time to wait around for Bradley to get a large following. Arum has to keep matching Pacquiao against guys that do bring in the big PPV numbers, and that means guys like Marquez, Miguel Cotto and Floyd Mayweather Jr.
If Arum does things right he might be able to get two fights with Mayweather, one with Cotto and perhaps another with Marquez before Pacquiao is totally shot. It wouldn't be surprising if Arum only matches Pacquiao up with those three fighters for the remainder of his career with multiple rematches taking place. Will the boxing public go for this. Absolutely.