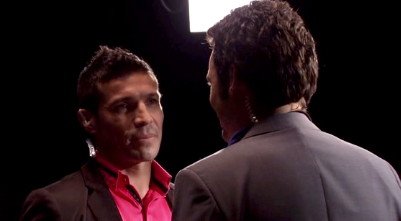 By Rob Smith: Sergio Martinez (49-2-2, 28 KO's) plans on taking the Las Vegas judges out of the equation when he meets the highly popular WBC middleweight champion Julio Cesar Chavez Jr. (46-0-1, 32 KO's) next month on September 15th in their HBO televised pay per view bout at at the Thomas & Mack Center. The fight goes for $49.99 for boxing fans interested in purchasing it on cable. Martinez feels that he's going to need to knock Chavez Jr. clean out in order to avoid getting jobbed in this fight. He doesn't have a lot of faith that the judges will give him, a less popular fighter, the decision.
Martinez said this as quoted by the World Boxing Council website: "I'm preparing to defeat Chavez by knockout in order to avoid a bad decision."
Although Martinez didn't say specifically why he felt that he needs to KO Chavez Jr. in order to win, he might be referring to Chavez Jr's controversial fights with Matt Vanda and Carlos Molina in the past. Chavez Jr. got a draw and a decision over Molina in their two fights in 2005 and 2006, and a lot of boxing fans felt that Chavez Jr. deserved to lose at least one, if not two, of those fights.
There was also Chavez Jr's controversial 10 round split decision victory over Matt Vanda in their first fight in July 2008 at the Palenque De La Expo, Hermosillo, Sonora, Mexico. The decision wasn't well received with the Mexican boxing fans at ringside, with many of them booing the decision, feeling that Vanda should have won. Chavez Jr. did turn around and beat Vanda decisively in their rematch in November of 2008, but there's no denying that Chavez Jr's win over Vanda in their first fight was highly questionable.
Martinez is the better boxer compared to Chavez Jr. and you got to figure that he should be able to out-box Chavez Jr. to a decision. However, Chavez Jr. is good for boxing because he sells out arenas and he brings in huge ratings on television. Whether that will make it hard for Martinez to get a victory over Chavez Jr. is unclear, but it's sometimes difficult for less popular fighters to get decisions over big stars in the sport. We've seen that with Ossar De La Hoya getting a controversial decision over Felix Sturm, and Manny Pacquiao getting several decisions wins over Juan Manuel Marquez that sparked a ton of controversy due to boxing fans thinking Marquez should have won.