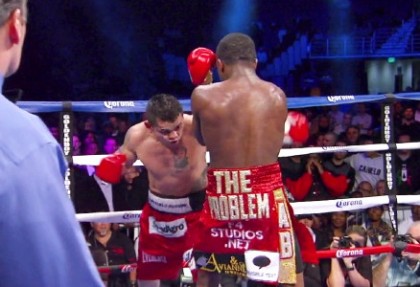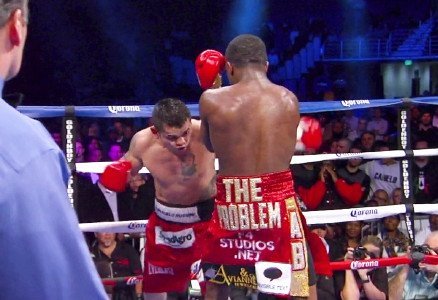 Trainer Robert Garcia feels that his fighter WBA welterweight champion Marcos Maidana should have been in the running for a fight with Floyd Mayweather Jr. following his win over Adrien Broner last December. But instead of getting a potential chance against Mayweather in what would have been a career high payday for the Argentinian fighter, Maidana is now pretty much locked into a rematch with Broner after Broner invoked his rematch clause in his contract with Maidana.
"We thought by beating Broner and doing it the way we did, we definitely earned the shot at Mayweather," Garcia said to the Boxing Channel. "For whatever reason it looks like they're going to go with Amir Khan, and we're going to have to wait and wait, because what if he changes his mind and fights someone else? Broner is the one calling for the rematch and Richard Schaefer [of Golden Boy Promotions] has a couple of dates to try and put that fight together. Marcos not happy and he feels like they're not giving him a fair shake. He thinks he doesn't need to fight Broner. Broner needs to fight somebody else before he gets another shot. He feels he deserves to fight Mayweather. It might be too soon for Broner to be fighting Maidana."
It does seem like a really bad deal for Maidana that he's not able to be available for the Mayweather fight. But he could also vacate his WBA title, but then Mayweather still might choose Khan to fight and Maidana then wouldn't have his WBA strap any longer.
The World Boxing Association needs to create a rule to where champions who lose their titles and have a rematch clause, they should have to fight at least once in between getting their rematch, because it's not fair to the contenders who are waiting for a title shot. It's also not fair to the guy that wins the title. They're stuck with an obligatory rematch. You don't see this kind of thing in the most popular sports in the U.S like football and basketball.
Mayweather will still need an opponent for September and it's a possibility that Maidana might get a shot then if he wins his rematch with Broner, and Mayweather wins his likely fight against Khan on May 3rd.