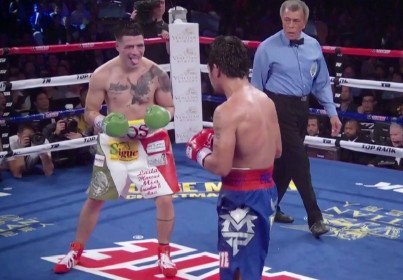 Former WBA lightweight champion Brandon Rios (31-2-1, 23 KO's) is expected back in the ring next May against possibly WBO light welterweight champion Ruslan Provodnikov. Rios is waiting to find out which fighter Manny Pacquiao will take on for his April 12th fight in Las Vegas, Nevada. If Pacquiao selected Tim Bradley, then Rios will be looking to fight Provodikov for his World Boxing Organization 140 lb. title. If Pacquaio selects Provodnikov to fight, then Rios could be fighting Tim Brady for his WBO welterweight title.
The criticism that would come from Rios fighting for a world title against Provodnikov or Bradley stems from the fact that Rios has lost his last two fights and isn't ranked in the top 15 at either 140 or 147. For Rios to get a title shot off of consecutive defeats and with him being a 2nd tier fighter, it would definitely run a lot of people the wrong way. However, you can bet that the WBO will come to the rescue or Rios once talk begins for him to fight Bradley or Provodnikov.
Whichever guy Rios chooses, you can guess that Rios will likely wind up ranked overnight in the top 15, and that'll take care of the argument from fans that Rios isn't ranked in the top 15 by the WBO. What can't be changed is the fact that Rios has lost his last two fights to Mike Alvarado and Manny Pacquiao, and looked poor in both fights. But that doesn't matter. Bradley, Provodnikov and Rios are with Top Rank, and that means Rios will still get a fight for the title whether he deserves it or not.
"He [Rios] wants to fight in May," said Rios' trainer Robert Garcia to the Boxing Channel. "We're waiting to see who Manny Pacquiao will decide to fight. If he fights Timothy Bradley, the Provodnikv might be available. And if Pacquiao decides to fight Provodnikov, then we might fight Timothy. Brandon wants to fight the best out there."
Provodnikov has already expressed interest in fighting Rios next if Provodnikov doesn't get selected for the Pacquiao fight.
It would be kind of disappointing for Rios to get a title fight against Bradley or Provodnikov off of two straight losses, but that's how things go in boxing. It'll be really interesting if Rios gets a title fight off of three straight losses. At that point it'll be forlorn and I can't imagine Top Rank remaining patient with Rios. If he can't win against the best then it's hard to imagine what they can do with him. Losing every time he fights will work for a while before boxing fans lose complete interest in seeing him on Bob Arum's cards. Rios was a good fighter when he fought at lightweight to a certain extent, but at 140 and 147, he's not the same guy. Without the weight advantage that he had while fighting at 135, Rios is little more than a punching bag for the better fighters.