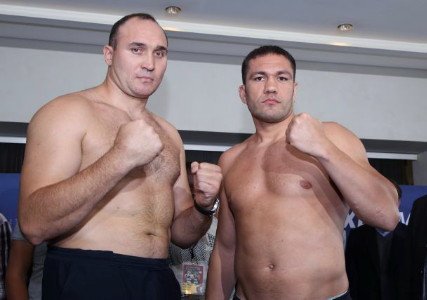 (Photo Wende) By Rob Smith: Former WBC heavyweight champion 39-year-old Hasim Rahman will get getting a shot at the title against WBA World heavyweight champion Alexander Povetkin in their fight at the Sporthalle, Alsterdorf, in Hamburg, Germany. A lot of boxing fans thought that Rahman had retired years ago after getting stopped by Wladiimr Klitschko in 2008. Rahman looked old and shot even then, and one can only imagine how much he's deteriorated since that fight. But Rahman has been piling up wins over little known 2nd tier opposition and has now won his last five fights, albeit against WEAK opposition.
It's hard to say why the World Boxing Association decided to give Rahman a #1 ranking because he's done little to deserve even a bottom #15 in my view. It just seems unreal that Rahman can get the top ranking from wins over the likes of Galen Brown (35-16), Marcus Magee (22-17), Damon Reed (46-13), Shannon Miller (16-4) and Clinton Boldridge (9-15-1). This doesn't boxing fans any good if a guy is given an inflated ranking and then tossed into the ring with a champion, even a fighter that many boxing fans see as a paper champion like the 33-year-old Povetkin.
You can't blame Rahman for taking the opportunity to fight Povetkin after he was made the #1 challenger by the WBA, but you can sure find blame with the WBA for ranking Rahman so highly in the first place. I'd much rather see heavyweights like Magomed Abdusalamov, Kubrat Pulev, Alexander Ustinov, Denis Boytsov or Chris Arreola made Povetkin's mandatory instead of a guy that hasn't done anything in years. Rahman's last win over a top grade fighter came seven years ago when he beat Monte Barrett in 2005. If you look at Rahman's wins since then they've all come against 2nd and 3rd tier opposition.
***
The undercard of tonight's fight will have heavyweight contenders Kubrat Pulev (16-0, 8 KO's) facing Alexander Ustinov (27-0, 21 KO's) in a battle of unbeaten heavyweights in an IBF heavyweight title eliminator bout. The 6'4 1/2″ Pulev is the EBU heavyweight champion and considered the favorite to win tonight. However, the 6'7 1/2″, 300 pound Ustinov is a real live dog in this fight, and he could give Pulev a lot of problems with his Vitali Klitschko style of fighting. Ustinov uses his size quite well, and he's got some respectable power to go along with his size. It's difficult to pick winner in this fight because both guys have been looking so good lately. Ustinov doesn't have much speed, but his long reach and huge size makes up for his lack of speed. He's hard to hit with head shots because he leans away from punches just like Vitali.