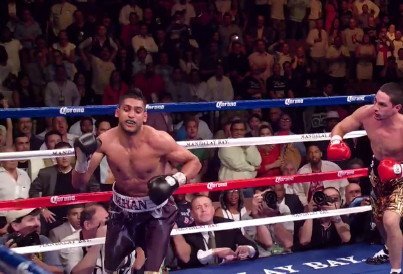 By Michael Collins: Former IBF/WBA light welterweight champion Amir Khan is convinced that his new trainer Virgil Hunter can turn his sinking career around and bring it back to where it briefly was while Khan was being trained by the well respected Freddie Roach from 2009 to 2012. Khan started out well with Roach, winning his first six fights before things started to turn rotten for him with two losses to Lamont Peterson and Danny Garcia.
Khan said "With Virgil in my corner, I know that I can get back to the very top of the light welterweight division."
I somehow remember Khan saying pretty much the same thing when he hired Freddie Roach as his trainer not long after Khan was starched by Breidis Prescott. Roach was seen as his savior and indeed he helped Khan's career by getting him through some decent opponents and through his toughest fight of his career against Marcos Maidana. However, Khan remained pretty much the same fighter he had been with other trainers. He still ran around the ring seemingly without much purpose, and threw a lot of wild punches without aim. But more importantly, Khan's chin was still a major problem for him and Roach wasn't able to change that. Maidana staggered Khan in their 2010 fight, and likely would have knocked him out had the referee not gotten in between the one-sided action so many times after Maidana had Khan hurt.
Hunter is a very good trainer and has a remarkable job with WBA/WBC super middleweight champion Andre Ward. However, there's basic requirements that even a trainer like Hunter needs from a fighter in order to take him to the top. A fighter has got to have the ability to take a hard shot without going down or getting knocked out. Khan might be deficient in this area. A fighter also has to follow instructions well. They can't listen to what their trainer is telling them and the go out and do the opposite, which is what Khan was doing in his last fight against Danny Garcia. Roach is telling Khan to box, and Khan is going out and trying to slug. It's not wonder that Garcia was able to KO Khan. He just wasn't fighting a smart fight by failing to heed his trainer's advice.
Khan's first fight with Hunter should be a fairly easy one because Golden Boy Promotions, the promoters for Khan, have picked out a small fringe contender level lightweight contender in Carlos Molina for Khan to fight. This isn't the junior middleweight Carlos Molina we're talking about. That's another guy altogether. No, the lightweight Carlos Molina is a small fighter with no power and he isn't much of a threat to beating Khan. What Golden Boy is obviously trying to do is build up Khan's confidence by putting him in situations where he can win with ease. However, they need not go overboard with feeding him soft opposition because Khan's confidence has been undoing in past fights.
He's too cocky for his own good in my opinion, and he needs to be a little afraid in the ring in order to fight the way he needs to with his weak chin. If Golden Boy just feeds Khan stiffs one after another, his ego will likely soar and we could see him trying to go toe-toe with his opponents as soon as he's put in with a live body at some point.