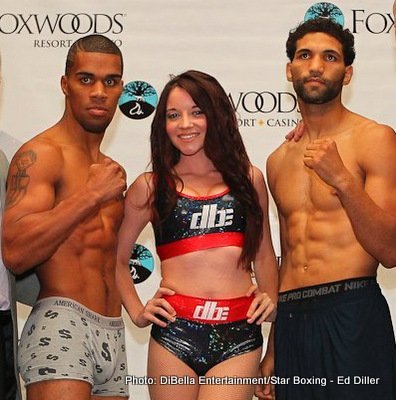 By Joseph Herron – "Where the heavyweight division goes, so goes boxing," was an age old adage that seemed to characterize the popular sentiment of the sport within any era. But in the new millennium, "Where HBO goes, so goes boxing," would be a more appropriate maxim to sum up the current state of the industry.
An impressive or disappointing performance while headlining HBO's "WBC" or "BAD" has become more impactful to a fighter's career than actually winning or losing a major world title. It is widely viewed as the benchmark for success in boxing.
Tonight on HBO's "Boxing After Dark", Super Middleweight contender Edwin "La Bomba" Rodriguez (21-0, 14 KOs) will appear in the main event of the popular television series for the first time in his promising career.
In what could be a defining night for the DiBella Entertainment hopeful, the Worcester, Mass resident will face the big puncher from Jersey, Jason Escalera (13-0, 12 KOs), in a Super Middleweight battle of unbeatens.
Is Edwin ready for his biggest moment as a professional?
"I've been working really hard with trainer Ronnie Shields to prepare for this night," states the Dominican born prizefighter. "I want to send a message out to the rest of the Super Middleweight division that I'm ready to take on anyone in boxing."
"The 168 pound division is filled with big names like Andre Ward, Kelly Pavlik, Arthur Abraham, Carl Froch, and Lucian Bute. I want everyone to know that I'm ready to fight the best."
DiBella Entertainment and longtime friend and manager Larry Army made the transition from Peter Manfredo Sr. to Ronnie Shields in preparation for Edwin's eventual transition to the upper echelon of the packed 168 pound weight division.
According to the elite level trainer, the union has been fruitful thus far.
"Edwin is becoming a complete fighter and is without a doubt ready to fight the best at Super Middleweight," claims Ronnie Shields. "When he first came to me, he was an offensive machine but had some defensive lapses."
"Now I have him thinking about everything, working behind the jab, setting up his offense intelligently while not allowing many openings for his opposition. His footwork is good, his hand speed is good…he's ready to fight the best."
Edwin attributes his success so far to, not only hard work and dedication, but also the clever and insightful decision making of his entire team.
"My manager Larry Army and promoter Lou DiBella have done a great job matching me up with fighters who are going to push me and force me to prove and learn something in the ring. That's something that not a lot of prospects get these days."
The 27 year old father of two is correct when he states most young prospects get fed opposition at the club level, especially when promoters shell out an enormous bonus at the contract signing. When a big promoter invests a large amount of money into an unproven prospect, most matchmakers' hands are tied when pairing the young lion up against quality opposition.
For the first two or three years of a young fighter's career, he'll usually take on club level fighters with regional television explosure. In contrast, Edwin hasn't fought an opponent with a losing record since 2008, in his sixth bout as a professional.
"I'm just happy that I've been maneuvered the right way and feel very fortunate to have the kind of people around me like Larry Army and Lou DiBella."
Another Lou DiBella fighter, Sergio Martinez, became an overnight sensation after knocking out Paul Williams in spectacular fashion on HBO in 2010. Maravilla is now considered to be one of the top pound for pound fighters in the world.
Is Edwin looking to make a similar kind of statement at the expense of Jason Escalera?
"In my last performance on HBO in March, when I fought Donovan George, I felt that maybe I was a little too cautious and could have opened up a little more on offense. Against Jason Escalera, I plan to show the world everything in my arsenal. I want to put forth a more complete performance and really put on an entertaining show for the fans."
"Because winning just isn't enough anymore to continue appearing on HBO. A fighter has to be entertaining as well. I know Jason is a big, strong fighter who has power in both hands and he's hungry to make the most of this opportunity as well. But I'm going to show that I can do more than he can in the ring. Everyone will see who the better fighter is on September 29th."
Although Edwin does not practice looking past his current assignments in the ring, he would like to see the current relationship between Top Rank and DiBella Entertainment flourish.
"When I get past Jason Escalera, I would like to see if we could get Kelly Pavlik in the ring sometime soon. I think that the fans would really enjoy that fight. I also think it would put the eventual winner in line for a title opportunity. I really love that fight, not just for me, but for the fans. I think HBO would be very interested in a fight with me and Kelly Pavlik as well."
Where HBO goes, so goes boxing…indeed.