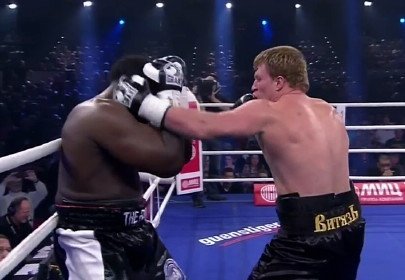 By Rob Smith: If WBA World heavyweight champion Alexander Povetkin (25-0, 17 KO's) really honestly wants a shot against IBF/WBA/WBO heavyweight champion Wladimir Klitshko next year, who you can make an argument that might not really want this fight, then he's going to have to wait until next summer at the earliest for the fight to happen. There's talk that the 33-year-old Povetkin's promoters at Sauerland Events want to put Povetkin in with Wladimir in February of next year. However, that's not going to happen according to Wladimir's manager Bernd Boente. If the fight does happen it's going to take place next summer.
This isn't exactly a bad thing for Povetkin and Sauerland because it's not as if he's going to beat Wladimir anyway. Sure, he'd get a nice payday for the Wladimir fight but he'd out-gunned and totally embarrassed by the 6'6″ Wladimir. Sauerland Events is better off by keeping Povetkin busy fighting the older heavyweights he's been dining on lately. He picked up the WBA title with a win over Ruslan Chagav, and then has defended it against 42-year-old Cedric Boswell, 39-year-old Hasim Rahman and then a cruiserweight in Marco Huck.
The talk now is that Povetkin will make his defense against 41-year-old Serbian Javo Pudar in either late December or early 2013. With these easy fights who needs Wladimir? All he'll do is mess things up by ending the Povtkin gravy train by whipping him and sending him back into the contender ranks. I don't know that Povetkin will ever be a champion again if Wladimir beats him because there's better heavyweight contenders out than Povetkin.
Sure, Povetkin does great against guys like Rahman and Boswell, but if you put him in with someone good he's going to struggle and lose. Povetkin is better off staying away entirely from Wladimir while he's holding down the WBA strap.