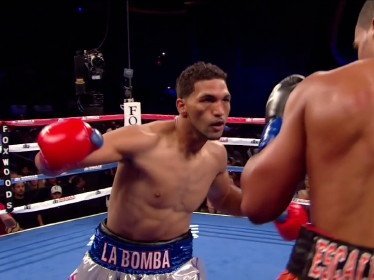 By Joseph Herron: On Saturday night, at the MGM Grand at Foxwoods in Mashantucket, Connecticut, Super Middleweight contender Edwin "La Bomba" Rodriguez (22-0, 15 KOs) made a major statement to the rest of the talent enriched 168 pound weight class by stopping the previously undefeated Jason Escalera (13-1-1, 12 KOs) in impressive fashion while making his first headlining appearance on HBO Boxing After Dark.
After the sensational performance, Rodriguez was very clear in stating that he wanted to tangle with former universally recognized Middleweight Champion Kelly "The Ghost" Pavlik in the near future.
Though it's clear this bout would be considered a potential fight of the year candidate by most boxing fans and fight scribes before both men ever entered the ring, it's uncertain which fighter would eventually hold their arm up in victory.
To give fight fans and boxing enthusiasts a closer examination of this fan friendly match-up, master fight strategist James Gogue analyzes the head to head pairing.
"This is a potentially great match-up between two physically tough fighters who have power in both hands," explains the 29 year experienced fight trainer. "This is the kind of fight that we've come to expect on HBO, so I really hope both camps can agree to terms and the fight fans can see this terrific bout become a reality sometime soon."
"While this past Saturday's bout wasn't very competitive, we did get to witness Edwin's talent on the biggest stage of boxing. We saw all of his physical skills on display; his footwork, his athleticism, his reflexes, his quick, sharp jab, and his combination punching. He proved that he possesses multiple facets to his fight game."
"Kelly Pavlik is a much improved fighter as well since training with Robert Garcia at his Oxnard, California gym. Robert has made him a much better physical fighter, especially in the pocket. In his last two outings with Garcia, we saw Kelly ripping body shots and uppercuts while throwing in combination on the inside like we've never seen him do before."
"So in this match-up between Pavlik and Rodriguez, we have a tough physical fighter who likes to mix it up paired with a slick athletic fighter who also likes to exchange. This has all of the ingredients to make a great, great fight for the fans of boxing. This is what the sport is all about, and this is the kind of fight that generates superstars."
While Gogue sees this as a very evenly matched fight, he does give the slight edge to the younger and more athletically gifted pugilist.
"Because Edwin's athleticism gives him more options in the ring, I initially would give the edge to Rodriguez in this match-up. But Kelly possesses great power in both hands which always gives a fighter the ability to turn the momentum of a contest at any time."
"This is the type of fight that is sure to ultimately end with great drama and be filled with action throughout."
According to Mr. Gogue, Edwin Rodriguez could potentially create a lot of problems for Kelly Pavlik in the ring with his athletic gifts. The master strategist breaks down a suitable gameplan for "the Ghost" that would considerably limit "La Bomba's" speed and agility.
"Kelly Pavlik is a strong fundamental fighter who works proficiently behind his strong, piston like jab to set up his big right hand and usually likes to keep his opposition at long to mid range. But in order to be effective against a very athletic fighter like Rodriguez, Pavlik would have to put great physical pressure on the younger fighter. Because Edwin has great reflexes and Ronnie Shields has improved his defensive skills, Kelly would have to shorten the distance between both fighters."
"If Kelly takes the fight into close range, he ultimately limits the reaction time of Edwin and doesn't give him as much opportunity to slip and counter effectively. He would also have to start ripping those body shots and uppercuts in close quarters to limit the head movement of Rodriguez."
"Then he should follow it up with his combinations to the body and head that he and Garcia have worked on in the gym; just like Kelly showed in his last fight with Will Rosinsky. He has to make it a very physical fight that takes Edwin out of his comfort zone and would eventually create great mental and physical adversity for Rodriguez."
To avoid falling into a physical inside fight with the powerful punching Kelly Pavlik, Gogue outlines a fight plan for Edwin Rodriguez that would keep "The Ghost" off balance.
"The key to this fight for Edwin is his natural athleticism and his footwork, which is the foundation of his defense and offense. Edwin has to implement a very similar fight strategy to what Sergio Martinez did in their Middleweight title fight in 2010. He has to get off first and turn him after he shoots his straight right hand or hard punishing jab."
"Edwin will have the faster hands in this match-up so Pavlik will be forced to take chances and let his hands go when he sees Edwin throwing punches. So Rodriguez has to limit his punch output to just one or two punches at a time, and immediately turn Pavlik by stepping to the side after he lets his hands go. It's very important in this match-up that Edwin does not give Kelly a large sample in which to time him with a big right hand or left hook counter."
"After he discourages Pavlik with a healthy dose of hard right hands and quick, sharp jabs, Edwin can then begin to open up in the mid to late rounds with combinations and harder, more damaging shots."
"When Pavlik is able to close the distance and work his way inside, Rodriguez has to position his body in a way that limits the amount of targets Kelly can hit. He has to create a defensive shell on the inside by standing with his shoulder at a 45 degree angle, while rolling away from Kelly's big right hand, ultimately making his head a smaller target to hit."
"Edwin has very good offensive skills on the inside as well. When he makes Kelly miss one of his big right hands by rolling away from it, Edwin has to make Kelly pay by landing his own right hand counter on the inside. Kelly has shown that he can be hit with uppercuts on the inside as well. Slip and counter with a right uppercut or right hook on the inside and make Pavlik think twice about shortening the distance. Give him a taste of his own medicine on the inside."
"But ultimately Edwin wants to keep the fight on the outside, because Pavlik is a dangerously hard puncher. Edwin got hit several times by admiring his own work against Jason Escalera and sometimes doesn't tuck his chin into this left shoulder properly. He occasionally leaves his chin open to be hit. He can't afford to do that with a big puncher like Kelly Pavlik. If Edwin doesn't stay focused for all three minutes of every round, he could find himself in serious trouble with just one punch."
Despite the speed and overall athletic advantage of Edwin Rodriguez, and the big fight experience and power advantage of Kelly Pavlik, James Gogue sees this potential match-up materializing into a great fight that could easily be any fighter's victory.
"This is such an intriguing fight in which both men are big, strong, hard punchers. Both fighters are hungry for a championship opportunity in a very talented division. The real winner of this fight would be the fans of boxing. The sport always benefits greatly whenever the best fight the best. So hopefully for the fans, this fight will materialize into a reality very soon."
Listen to James Gogue's expert analysis every Sunday evening at 9PM EST on "The Pugilist KOrner's: Weekend Wrap"