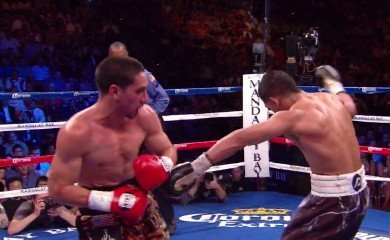 By Michael Collins: Showtime reportedly has bought the Amir Khan vs. Carlos Molina fight to televise on their network on December, according to Steve Kim of Maxboxing.com. The Khan-Molina fight could also have unbeaten heavyweight prospect Deontay Wilder fighting on the undercard against an unknown opponent. Molina, 5'6″, is a lightweight contender and would be moving up in weight to face the bigger, faster and stronger Khan. Presumably, the Khan-Molina fight was offered to HBO first but it doesn't appear there was much interest from them.
A Khan vs. Molina would have been an okay fight for Khan to take earlier in his career but it does seem a tad out of place to be taking place now that he's a former two-time world champion. There's also the question about whether a Khan-Molina fight is worthy of being a main event for Showtime. I think it would be an okay ESPN2 level main event but not for Showtime. You'd expect a lot better than this given the size, power and talent differences between Khan and his smaller opponent Molina.
It's been two years since Molina scored a knockout, which tells you a lot about his power or lack thereof. Molina has been facing little more than B and C level opposition and yet he's not able to even knock them out. Molina has obviously been picked because of his lack of power in addition to his unbeaten record, which will be the selling point for this fight. Having Khan fight a guy with undefeated record makes the fight somehow more appealing to boxing fans who don't have a clue about this mismatch.
Khan fans feel that he should be allowed to get a pass on this easy fight, and they feel he shouldn't receive criticism for his level of opponents. Some fans even see Molina as great fighter. I've seen him fight a couple of times and I don't see anything great him or even really good. He just looks like a short fighter without power that the WBO, for whatever reason, has him ranked at #10 in the LIGHTWEIGHT division. I'd much prefer to see Khan fighting an actual light welterweight if his fights are going to be televised on Showtime, and I'd prefer that he be fighting someone that's competitive with him if he's going to be in the main event. How will it look if Khan blasts out Molina in one round? They'll have to stack the card with a bunch of other fights to make up for the time that was lost with the Khan-Molina fight.