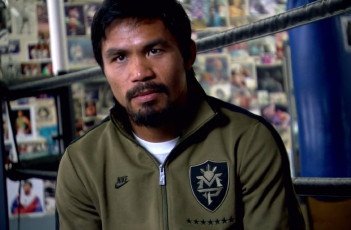 By Rob Smith: It still looks like Manny Pacquiao's April fight will be staged in Asia, although Manila has been ruled out according to Philboxing.com. Pacquiao's adviser Michael Koncz says they're interested in putting Pacquiao's fight in one of the following countries: Abu Dubai, Macau and Singapore.
There still isn't an opponent picked out but Top Rank has 9 guys they're looking at with the leading candidate being Vyacheslav Senchenko. The other notable fighters under consideration are Top Rank fighters Jessie Vargas and Brandon Rios. Senchenko is ideal because he was recently stopped by the light hitting Paulie Malignaggi, who was able to stop him by jabbing him all night long.
What Pacquiao probably doesn't need is an opponent that will test his chin in any way and possibly KO him. A loss to in this tune-up fight would likely make it difficult for Top Rank promoter Bob Arum to sell a rematch with Juan Manuel Marquez this September. Pacquiao was knocked out viciously by Marquez last December in a fight where Pacquiao was knocked unconscious in the 6th round from a right hand from Marquez.
Arum had plans on having Pacquiao rest up and come back in September, but he reportedly wants to get back in the ring quickly by taking a fight in April rather than resting. Whether that's a smart thing or not is unclear. It may not hurt him if they pick the right opponent without any power, but even someone like Senchenko has respectable power. He can punch a little and might be as strong as Marquez when he loads up on his shots. He's a not a counter puncher, however, and that should make things easier on Pacquiao because it will limit the amount of times he gets hit with shots that he doesn't see coming.
Senchenko has a good left hook and he can be dangerous when he puts everything he's got into those shots. He put Ricky Hatton down with a left to the body in stopping him in the 9th round last November. Pacquiao takes a pretty good body shot but you never know. He's been stopped in the past on a body shot, and maybe Senchenko could bring out this weakness again.