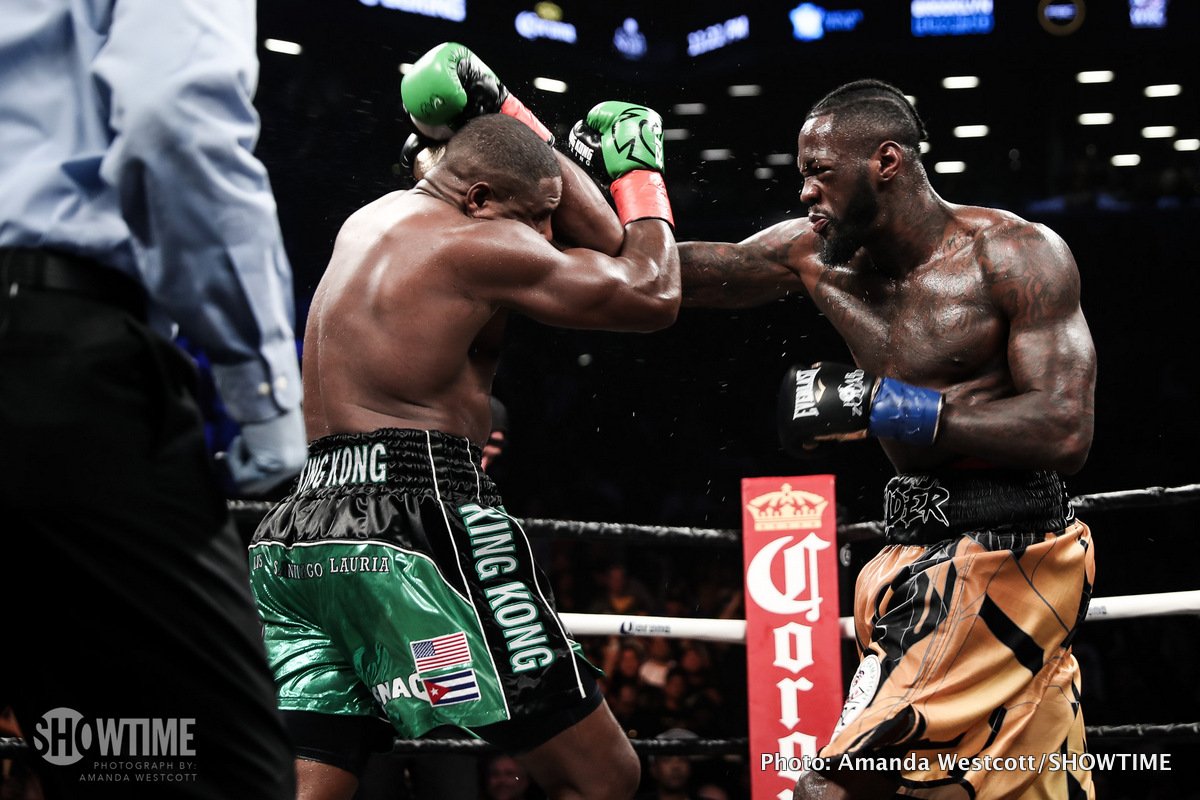 Oscar De La Hoya, perhaps motivated by the loss of his star fighter Canelo Alvarez's massive May rematch with Gennady Golovkin, has made an attempt to lure heavyweight champions Anthony Joshua and Deontay Wilder to the golden side with big-money offers and guarantees of true stardom in the US. Taking to Twitter today, The Golden Boy offered to turn WBA/IBF/WBO champ Joshua and WBC ruler Wilder into "household names in the US of A."
"If @anthonyjoshua and @bronzebomber want to become household names in the US of A and stop doing mediocre raiding (ratings?) on Showtime, call me and I'll make you superstars in the beautiful USA," De La Hoya wrote earlier today.
Joshua, who seems about as content as can be with current promoter Eddie Hearn, doesn't look like going anywhere. Wilder, who, as Hearn pointed out this week, has three managers (Shelly Finkel, Al Haymon and trainer Jay Deas) – and, as a result of this, making the fight with AJ is "difficult" – and is promoted by Lou DiBella, doesn't look like jumping ship either.
Fans have shot back at De La Hoya, but the former champ and current mover and shaker won't budge; insisting Joshua and Wilder should and could be making more money.
"If your happy with a National champ, fine, I come from the old school "world champ," De La Hoya tweeted back to those UK fans who informed him that AJ is doing fine as he is, selling out the cavernous Wembley Stadium in London.
De La Hoya claimed he'd make Wilder Vs. Joshua a reality if he was promoting "The Bronze Bomber."
"If I was promoting @bronzebomber I would take him to the UK and fight him with @anthonyjoshua then have a rematch in the U.S."
If De La Hoya could guarantee not one but two fights between the two premier heavyweights on the planet, then maybe it wouldn't be such a bad idea, one of the two rulers signing with him. But in reality can anyone make this fight? De La Hoya says he wants Joshua to "be considered a legend one day and make the most money doing it."
Eddie Hearn would say the exact same thing. Can De La Hoya possibly bring more to the table the Hearn can? Again, AJ is going nowhere as he is in safe hands right where he is.