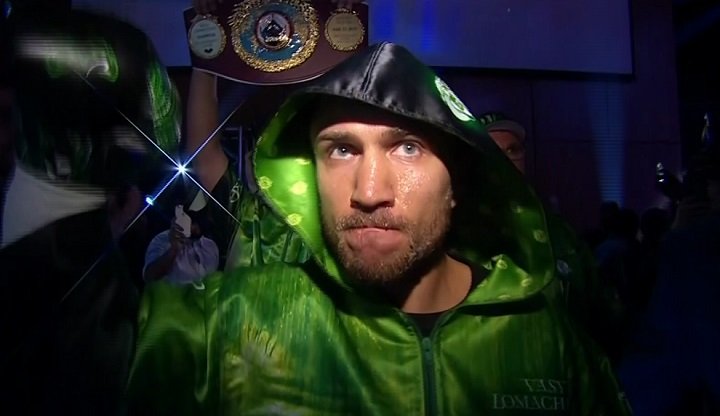 Vasyl Lomachenko is, arguably, approaching the biggest fight of his pro career thus far: the May 12 bout that will see the southpaw go for 135 pound supremacy versus established champ, the classy (in and out of the ring) Jorge Linares.
With the GGG-Canelo return now off, this fight – which will grace the cover of the forthcoming issue of Ring Magazine – is very possibly the biggest, most anticipated fight of the first half of 2008. But who wins? Can the incredible gifts of Lomachenko see to it that the pound-for-pound ruler adds more glory to his name, or will the savvy, experience and natural weight advantage of Linares see to it that the current lightweight champ retains his own status?
Fighters can achieve greatness in a number of different ways: some, such as heavyweight terror Mike Tyson, make a huge impact in just a short period of time and become world champion after a veritable handful of fights; others, such as the once seemingly ageless Bernard Hopkins, achieve it through longevity, beating up Father Time at a time when retirement had long since looked close.
Then there are special fighters that occasionally come along who deserve to be placed in a section all by themselves. Vasyl Lomachenko is one such great fighter. Astonishingly, after just 11 fights as a pro – one of which he lost – the two-weight world champion is the consensus choice for reigning pound-for-pound king – this has never happened before. We have seen fighters make enormous and quick strides before, yes, but Lomachenko, who is getting better and better with each fight, has at 10-1, reached a higher level of greatness than ANY fighter before him had done at just the 11 fight mark.
Sugar Ray Robinson, Muhammad Ali, Henry Armstrong, Julio Cesar Chavez, Sugar Ray Leonard……and on the list goes. No fighter was where Lomachenko is at just nine fights. The question now is, how great can the man known as "Hi-Tech" really become, how long will he dominate his opposition?
Of course, Lomachenko learnt his craft at amateur level, engaging in a crazy number of bouts and picking up an even crazier number of wins (a simply staggering 396-1!). Now a fully-rounded fighter (putting it mildly) at just 10-1, the Ukraine legend really does seem unbeatable. At the same stage in their careers, superb fighters such as Floyd Mayweather and Manny Pacquiao were still taking veritable baby steps in the prize ring.
With all he's achieved already, and with the prospect of a whole lot more to come from his considerable boxing talent (uncommon boxing skill) could Lomachenko go on to be recognised as a greater fighter than the masters, Mayweather and Pac-Man, to name two modern day kings?
Lomachenko is that special, this kind if question has already been asked and is being asked right now. Fight fans as well as boxing fans (because Lomachenko can do both) have a real gem in front of them with the super-featherweight sensation. But how many more weight divisions will this unique fighter go on to conquer?
Now, can Lomachenko make easy work of Linares? Can he even make his fourth opponent in a row quit on his stool?