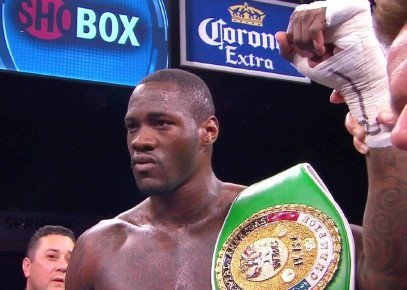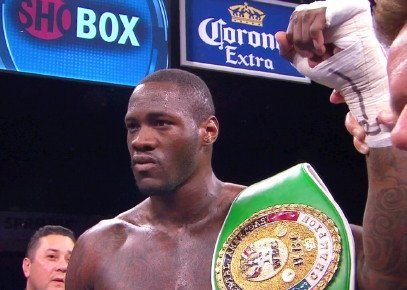 Art N. (Los Angeles, CA): On your Facebook page you spoke about Deontay Wilder and how KO artist should perhaps not get so much early praise. Do you think he has a shot to be the next best American Heavyweight?
Vivek W. (ESB): Deontay Wilder has become a hot topic! How hot? On Yahoo! this weekend he was ranked #7 on the global trending report. As interesting as that may be, my point in the FaceBook post was that I approach him like I do any other heavy handed puncher in the sport. I enjoy the KO's and the process of seeing the fighter rack them up! But when the rubber hits the road, it all comes down to whether or not that puncher has the ability to deal with an opponent who has the power to hurt them, the stamina to outwork them, and chin to outlast them. That's when it all gets "real" inside the ring! Many of you who followed the fight game before Tyson went wild and Pacquiao brought "good guy" back in style know full well that power without those other elements mean very little.
Trinidad was a very feared puncher. His biggest (and only) problems came against pure boxers. Kelly Pavlik was dismantling guys left and right with his relatively decent power. He met his match, as well. Recently, Danny Garcia made that dubious distinction about the man he'll share airspace in the ring with next, (Matthysse), when he said Matthysse "only fought two people who [actually] fought him back and he loss both times". I'm not so sure how the showdown between Garcia and Matthysse will play out. But I do strongly agree with his logic that it does something to the mind of a fighter when he's met with equal or greater ability. It tells us precisely who he is. For Wilder, that defining moment has yet to come.
The interesting thing about it is that years ago I could remember saying the same thing about two other guys named "Klitschko" (smiles). I don't know about you, but me and many other fight fans looked at their size and relative attributes and said "I can't wait to see how they handle someone equal or greater in size, strength, power, etc). Guess what? Here we stand years later and that test has yet to come! Yet they're still knocking guys down like bowling pins! Some of that speaks for their ability. The rest speaks for the limited ability of their contemporaries. That right there is precisely why I feel Wilder could very well take it to the top! Who's there to stop him in the division, not named Klitschko?
What allowed them to dominate was the same size, power, and speed. The only element of Wilder's game that's currently a question is his heart to compete on the elite level. Soon we may find out a lot more than we currently know. This is a young man who never touched a pair of gloves until he was 19. Two years later he won several Golden Gloves tournaments and regional distinctions with only 14 prior amateur bouts under his belt. A year after that he won an Olympic Bronze medal. After extensive sparring with Wladimir Klitschko, Wladimir was quoted as saying he was his "toughest" sparring to date. The late Emanuel Steward (RIP) told Wilder (based on that sparring work) that he "would be a Champion one day". So far he's on par. 6'7″, 84 inch reach, 29 fights, 29KO's. Lets see how the rest of the script goes. So far, what's there NOT to like about his chances?
Kerry E. (St. Louis, MO): Danny Garcia has been surprisingly vocal leading up to his bout with Lucas Matthysse. Even more so than his Father, who typically has a lot to say. What do you attribute to his recent demeanor?
Vivek W. (ESB): I've noticed this as well, and it somewhat intrigues me, as it's not very typical based on what we've seen in the past. In one breath, I could see logic in the fact that it's a bigger fight than any he's had in the past, and it's on what could be the biggest card of all time; so it only makes sense that there's a ton of media attention, interviews, sound byte sessions, etc. The flipside of that equation is that not only has Garcia been more vocal, but he's been visibly confident. He doesn't seem to speak from an egotistical angle. When you sit and listen, he's speaking from a very confident angle that tells me he has been doing his homework leading up to this showdown.
In one particular clip I listened to, he spoke of key fundamental mistakes others have made against Matthysse by throwing punches without having good balance, or from certain positions that made it easy to knock them off balance. One interview he went deeper, talking about ways to use certain angles for mounting an attack, as well as for the purpose of exercising an exit strategy when the opponent does. So, it seems that Garcia is totally dialed in, and I think you have to respect that. When you look at guys in the sport that has faced quality and/or comparable opponents and remained undefeated, and didn't get there with questionable decisions, you have to acknowledge that it's something they're doing to keep them that way.
I've always viewed Garcia as a bigger punching Timothy Bradley. In the sense that both men have relatively decent boxing skills and consistently find a way to overcome and get the victory. Even when it appears they may not. Bradley has had to gut his way out of many close calls with pure heart and will. Garcia has been buzzed and on the brink of defeat as well, but somehow, some way, escaped with a counter left hook that serves as an eraser, wiping out early match mistakes with a curtain closer. I liked Matthysee when this fight was initially announced. Possibly by mid to late round stoppage. But the more I analyze certain things, the more I realize Garcia could very well be on the brink of elevating himself to a much higher level in the sport. It'll be interesting to watch. Stay tuned.
Elvin V. (London, UK): Last week on your radio show broadcast I heard you mention that you view Canelo to be a "nail-biter" for Mayweather. I recently heard him mention his intent to "break Mayweather's will" and use aggression. Do you think that his fight plan will be an aggressive one? Or do you think he will box?
Vivek W. (ESB): I don't think any of us truly know that at this stage. What I do think is that he'll be very smart about it. Realizing that it's very difficult to outbox Mayweather, yet equally as difficult to play the aggressor and allow him to pick you apart; if he's wise, he'll employ both strategies. Being aggressive in close and when the situation allows; while also picking his spots as it relates to sitting back and landing his shots without too much aggression. Oscar has pointed to the need of a swift and consistent jab throughout the fight. I don't always agree with Oscar, but I think he hit paydirt on this one. Canelo uses his combinations as well as any fighter in the sport, and the best thing he can do is set Mayweather up with a consistent jab, and periodically follow that jab up with either a cross or uppercut.
Canelo is very much a thinking fighter, and I really think he will bring more to the table in this fight than people know. As odd as it sounds, I'm actually leaning towards a Canelo victory here. I just really think Mayweather is in against something he hasen't seen the likes of in a very long time. Yes, skills pay the bills! But youth and a strong will can often equate to a challenge that's real! Mayweather will have to be at his very best. Anything less fails the test! Floyd will be in against a man who's speed and power will force him to rethink certain strategies. That's what I think the beauty in this fight really is. Mayweather has demonstrated the ability to figure the opponent out and simply take over. I'm not so sure this time will be that easy.
He may be able to out think Canelo, but a punch that comes with speed, power, and an unpredictable nature has to be respected, and that's where Canelo makes problems for everyone he faces. He throws at the head, he throws at the body. Then there are times he throws decoy shots in one place to setup the other. If you remember the Mayweather/Mosley fight, it was a decoy left jab, followed by a very quick and thunderous right that shook Mayweather up more than we'd ever seen to that point. I really think the jab, the power, the uppercut and the varied attack will give Canelo a very strong shot. If Mayweather is able to figure out a way to nullify this attack I'd be the first to say without dispute, to do this at age 36, this man has to be commended, even by his biggest hater!
I really think a shutout victory over someone like Canelo who is young, has never really lost many rounds, never been knocked down, and rarely even buzzed would prove a lot. I look forward to the fight and I really think it will be the toughest fight we've seen Mayweather in. The key will be the first few rounds. As the legendary Roberto Duran pointed out weeks ago, if Canelo finds himself down by two rounds or more early in the fight, he will have 8 or 9 rounds left and have to win practically all of them to achieve winning 7 of 12 rounds to get the nod on the cards. A better way to narrow this down is the fact that neither man (to this point) has ever really loss back to back rounds. They'd have to go tit for tat for it to be close down the stretch. If either builds a lead, the only game-changer is a game stopper (KO). It'll be interesting to watch it all unfold. Stay tuned.
(Vivek "Vito" Wallace can be heard every Monday night on "Left-Hook Lounge Radio" at 9ET/6PT. He can also be reached at 954.300.5692, FaceBook, Twitter (@vivekwallace747), and Instagram (ViveksView).