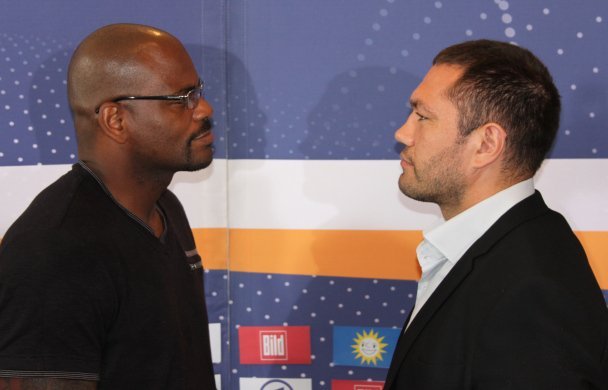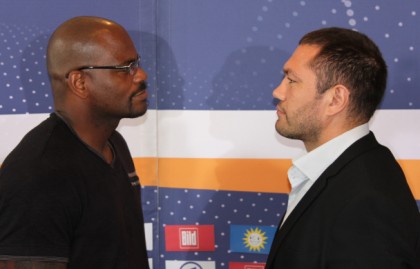 Photo: Team Sauerland – It has been a long dry season for the heavyweight division and this is a fight that could stir interest on both sides of the ocean. The fight has a mandatory eliminator status and the winner should be in line to challenge Wladimir Klitschko for his IBF title.
Both fighters are roughly the same size, Thompson is an inch taller and has a two inch reach advantage, he was also 9 pounds heavier for his last fight at 259 while Pulev weighs around 250 lbs. Their styles are different as they come from a different boxing background and different boxing schools.
Tony "The Tiger" Thompson has 41 fights on his record and obviously has more experience as a pro. He is also 9 years older but at 41 years of age this will not be an advantage. He is a good honest pro who had to go through the motions and wait for years for his opportunity. He fell short twice against W. Klitschko but the reason he is in the mix again is because he exposed David Price twice. Price used to be a decent amateur at least on paper but could not adapt to the longer professional bouts.Thompson has a typical pro style which is individual and instinctive, he improvises with his game and this makes him somewhat unpredictable. His greatest asset against Pulev will be his southpaw stance. It will make landing the orthodox jab hard and even dangerous and the jab has been Pulev's best weapon.
Kubrat "The Cobra" Pulev has less experience in the paid ranks but he brings years of quality amateur experience. His pro style is based entirely on his amateur boxing skills. He has a very good understanding of range and space in the ring. His boxing skills have been ingrained into his muscle memory during his amateur years. Amateur boxing instills a system of skills into a boxer that covers a lot of situations. Pulev's jab is an asset form the amateur ranks as well, it has evolved into a power shot because he uses his sharp timing and range skills when he throws it. He uses the opponents weight against him very often as he times him when he has just started moving forward. I have to admit that his right hand is less than dangerous and he has not scored a knock down so far with a power punch. The southpaw stance of his opponent will negate the jab at least early on and Kubrat will have to demonstrate he is not a "one armed" fighter.
I pick Kubrat Pulev to win due to his amateur boxing experience. His skills have been polished and ingrained into his muscle memory. He will not try to out-punch Thompson as Thompson perhaps hits harder with both hands. "The Cobra" will use his intangible skills such as range and timing awareness, ring space and striking distance perception, footwork and angles. Angles in offense and then angles in defense right after the attack. He will apply a tempo the "old man" won't be able to keep up with and pace at intervals the 41 year old can't tolerate. Thompson only has a puncher's chance (if he fits that description at all) in the first 5 rounds when Pulev will be extra careful and perhaps somewhat passive. After that the "The Cobra" will attack at intervals that will push Thompson's reserves beyond the limit. If Pulev goes to the body in the later rounds, he could stop Thompson, otherwise it will be a points win for "The Cobra" and a weary night for "The Tiger".