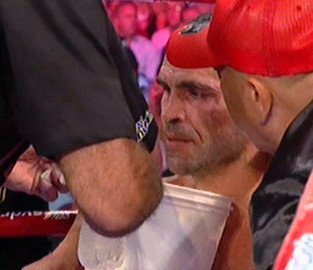 Three time world champion Anthony "The Man" Mundine (44-5, 26 KOs) spoke with 'Radio Ringside' on SEN 1116 in Melbourne, Australia on Monday night to discuss his upcoming bout with future hall of famer "Sugar" Shane Mosley (47-8-1, 39 KOs) later this year.
Since venturing to the United States for the first time in his career last July to take on Bronco McKart, Mundine has made it clear that each fight going forward is to be a major contest.
Since this point he has remained true to his vision, with his first fight after the McKart bout a rematch of his 2009 classic with countryman Daniel Geale, for Geale's IBF middleweight title. The bout saw Geale victorious via unanimous decision this January, to even the ledger between the two at one apiece. But the defeat hasn't deterred Mundine's quest for supremacy and to fight the biggest names possible in the sport, with the announcement of his bout with Mosley last week reaffirming his plans outlined last year.
On securing the Mosley bout, Mundine states "I just want the best fights… By the time I fight Shane, I would have been off for 10 months. The only reason I was off for 10 months, is because I was searching for the biggest fight out there and the biggest name. I could have fought top contenders but it wouldn't have had any punch to the event. I'm after the best and I told you, I wanted to get Floyd Mayweather and this is the road to him. I've got to get through Shane first, he's my first priority. He is the one I focus on. He is the one who stands in front of me."
On Sugar Shane and his career stage, Mundine states "Shane, yeah, he is probably not in his prime. But I'm probably not in my prime either… the losses that he is coming off is against the best of the best. We've got to remember this guy nearly knocked out the best pound for pound (fighter) of our era (Floyd Mayweather), in the second round. He's a dangerous fighter man and I've gotta be on my A game in order to overcome him.'
With Mundine coming off a loss against Geale, a second defeat could spell the end of the 38 year old Australian's career, a career that has seen him a PPV attraction in Australia for every one of his 49 fights to date and capture three world titles, two at super middleweight and one at middleweight.
Mundine is determined to make his bout with Mosley one of his most memorable performances, "I'm out to show the real Choc, the Choc of old. The Choc that got that hunger that got that eye of the tiger and got that will to win. That's what I need to bring in order to make a statement in this fight."
The bout between the two will be at junior middleweight, which presents an interesting clash given Mundine has most recently campaigned at middleweight and Mosley most recently at welterweight. In relation to this, Mundine is confident with fighting at 154 pounds "I feel stronger at junior middleweight. In my last two fights at middleweight, I wasn't even at middleweight. I was two pounds under the weight."
As for his thoughts of Shane Mosley at junior middleweight "Obviously he is a lot stronger at junior middle. He's fought there numerous times and given a great account of himself… He's a seasoned campaigner, so he knows how his body can really adapt and fluctuate between welterweight and super welterweight. The advantage is probably with him. He's had more fights than me at super welter."
Mundine fighting Mosley in Australia will be one the biggest fights ever staged on Australian shores. Asked on comparing this bout between Mundine and the 41 year old Mosley to Danny Green's bout with a 40 year old Roy Jones Jr in 2009 which ended in a first round stoppage win for Green, Mundine dismissed the comparison and any negativity associated with Mosley's age "There is no comparison. This is way bigger, he ain't a shot fighter and he just beat a young champion in Mexico."
"All I can say is you do the research and make your own decision. The public shouldn't be fooled by anybody. Let them do the research and have a look at who he's fought, who he's beaten and how he went against the best, the very best of the best. We're not talking 10 years ago, we're talking recent."
A win over Mosley will certainly count amongst Mundine's greatest triumphs in the ring, stating "his legacy (Shane Mosley) speaks for itself but I am chasing my own legacy and this will be a big big feather in the cap if I get over him and then obviously there will be a lot of doors opening and big opportunities on the horizon if I can get it done."
With the finer details of the fight date and venue set to be ironed out over the coming days, though Sydney, Mundine's hometown, is the likely venue. Mundine states 'the date and venue is yet unknown, but the promoter has given me a guideline of late October, early November.' That promoter being Vlad Wharton of Millennium Events, who Mundine feels has lifted his normal promotional responsibility for this fight. "I don't have to worry about promoting. I don't have to worry about selling tickets. All I got to do is worry about turning up and winning the event."
Mundine is focused on cementing his legacy in the sport. "I'm chasing my own legacy. I'm not just going to beat Sugar Shane and be happy with that."
"I'm focused on shocking the world and I want to bring the country with me, we're fighting Sugar Shane…At the end of the day I am an Australian, I am an Aborignal, I am an original. I want to take on the world. The very best fighter in the world is in America, and that is Floyd Mayweather. But Mosley is the first cab off the rank. We should all get behind, rally behind Mundine in order to win together, because I want to fight for the country aswell."
To listen to the interview with Anthony Mundine in full, please click on the below link to the podcast on the SEN 1116 website
Srithar Visuasam is a co-host of 'Radio Ringside', broadcast on SEN 1116 on Monday nights in Melbourne, Australia at 10:30 – 11:30PM AEST and streamed live online at www.sen.com.au.